The best things to do in Duluth change with each season, but there are exciting attractions, outdoor recreation, and fun places to discover all year round. As the snow melts away on the best cross-country skiing trails, these routes are transformed into a playground for hikers and mountain bikers. Spring is beginning to appear in budding trees and greenery. Summer is all about enjoying Lake Superior and soaking up the sunshine—kayaking tours and charter boats cruise the vast waters under blue skies. Fall couldn't be more beautiful with bright autumnal colors!
Duluth offers world-class dining, a lively craft beer community, fascinating museums, historic sites, and concerts. As well as plenty of hiking opportunities, many of which are not far from the downtown urban core. And don't forget about beach time on the lake! In fact, our sandy stretch down the way from our Duluth Bed and Breakfast was included in Travel + Leisure's list of the "25 Best Beaches in the USA." Undoubtedly, your days and evenings will be filled with adventures as you explore Zenith City.
Our Duluth Bed and Breakfast on the shores of Lake Superior offers guests an unparalleled 360-degree panoramic view of the lake and city. Our Inn is cozy and warm during the winter and early spring and transforms into a summer oasis on long, sunny days. Our guests also enjoy easy access to the beaches of Park Point and all the shopping, entertainment, and restaurants in Canal Park (within walking distance). Reserve your luxurious guest suite and start planning your next getaway filled with all of the best things to do in Duluth!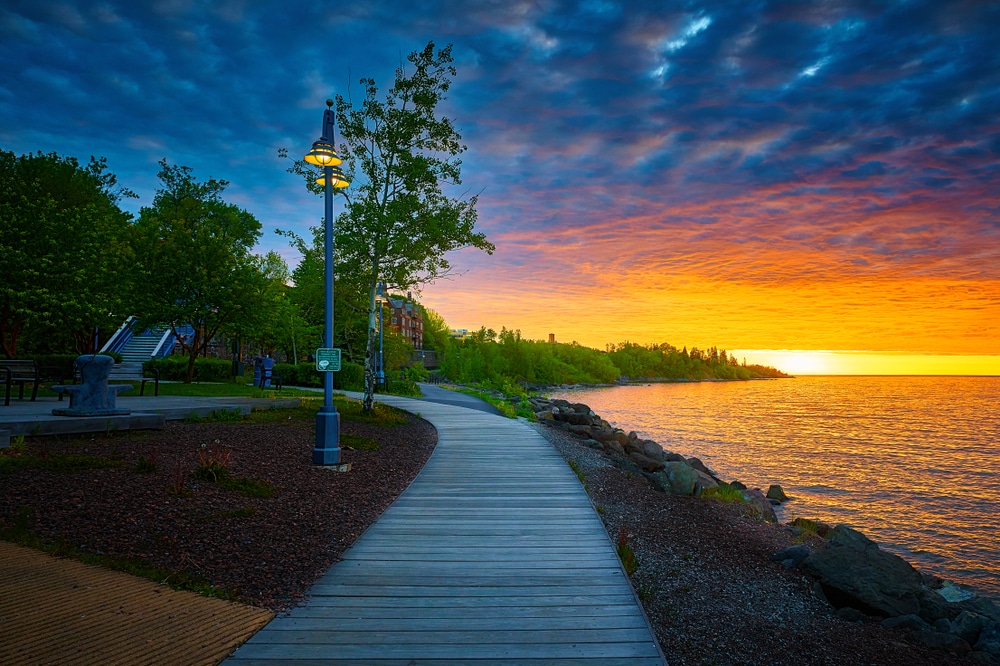 The Most Exciting Things to do in Duluth, MN, 2023
Duluth, Minnesota, is a dynamic city set on one of the world's most beautiful and largest freshwater lakes. Within minutes you can go from an area with highly regarded restaurants and world-class shopping to a rugged coastline surrounded by forests and hiking trails. Due to this, you can experience a myriad of adventures during your time here.
Here are ten of our favorite things to do in Duluth this year:
Stroll the Lakewalk at Canal Park: You can't begin a list of the best things to do in Duluth without mentioning this iconic lakefront gathering space. Head across the historic Aerial Lift Bridge on foot from our B&B to explore Canal Park on Lake Superior. The route stretches about eight miles, so stroll as long as it feels right for you.
Take a Scenic Ride on the North Shore Drive: This beautiful route starts in Duluth and follows around Lake Superior by landscapes of picturesque hills, rocky cliffs, and waterfalls. Stop by the rugged and picturesque Brighton Beach. Stop by the Split Rock Lighthouse and State Park, a picture-perfect landmark! Tour the lighthouse or walk the paths of the state park.
A Memorable Ride on the North Shore Railroad: This heritage railroad operates between Duluth and Two Harbors. Of all the things to do in Duluth, this is one of the most relaxing! The train follows the historical line with views of Lake Superior, the downtown skyline, and the beautiful Northwoods. Especially a treat during Autumn with the changing of the leaves.
Tour the Historic Gleensheen Mansion: You can tour this 39-room mansion along with the more than 12-acre estate with formal gardens and trails. You can take the classic self-guided tour or the full mansion tour, where you'll see all five house floors.
Great Lakes Aquarium: Head to the Great Lakes Aquarium for live animal exhibits, the Merrill Lynch Fine Arts Gallery, and beautiful views.
Superior Hiking Trail: For avid hikers and extreme sports enthusiasts, exploring this curated trail is a must. More than 300 miles of trails connect state parks and traverse the rocky ridges of Lake Superior.
Check out the Local Breweries: There's a burgeoning craft beer scene here, and one of the best things to do in Duluth is doing a little pub hopping. Stop by Canal Park Brewing, Bent Paddle Brewing, and Ursa Minor Brewing during your stay.
Dine out at the Best Duluth Restaurants: As a guest at our Duluth Bed and Breakfast, you won't want to skip our homemade morning meal. Save heading out to the best restaurants in Duluth for your lunch and dinner plans. A few of our favorites not to miss are Zeitgeist Restaurant, Northern Waters Smokehaus, and Lake Avenue Restaurant and Bar.
Get Tickets for the Duluth Symphony: Duluth has a lively music scene from the annual Bayfront Blues Festival and the Duluth Entertainment Convention Center, welcoming popular acts. You'll also want to consider heading to the symphony for a beautiful night of classical music.
Bentleyville Tour of Lights: If you end up planning your trip in the wintertime, one of the most festive things to do in Duluth is a visit to America's largest free walk-through lighting display. You'll also find plenty of snowy recreation in and near the city, from ice skating to cross-country skiing and more.
This is just a handful of the best things to do in Duluth this year! As a guest at our Duluth Bed and Breakfast, feel free to ask your welcoming innkeepers for personalized recommendations.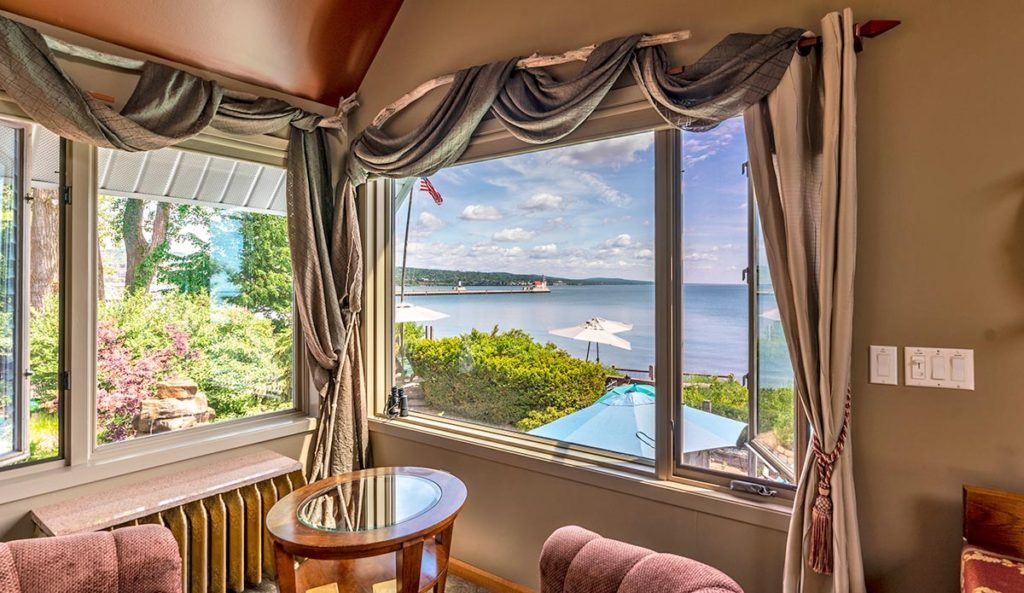 Stay at our Lakefront Duluth Bed and Breakfast
You could spend multiple days exploring all of our favorite things to do in Duluth and still need to come back and visit again to see it all! And with our Duluth Bed and Breakfast your haven of relaxation at the end of the day, you won't want to leave any time soon. Here you can kick up your feet, relax with a beverage, and watch as the ships navigate the harbor.
Our Duluth Bed and Breakfast is within walking distance of many attractions, so you can spend your days out and about knowing that your evenings will be for resting up for the next adventure. With only five intimate and beautifully appointed guest rooms, you'll never encounter unwanted noise or crowds, sometimes an element of lodging at large hotels. Each room is eclectically decorated with modern works of art that reflect the vibrancy of Duluth and the surroundings.
Your lodging includes a full breakfast made with locally grown and organic ingredients served in our elegant dining room with views of our award-winning gardens and Lake Superior. Enjoy dining al fresco on our deck during the summer—there's no better place to enjoy a steaming cup of our own coffee blend. We can't wait to host you and show you all of the best things to do in Duluth; book your stay with us today!