You come to the water to be refreshed. To quench a thirst. To wash away the stress, the work, and the years. And the water welcomes you as do we at our Duluth bed and breakfast.
Lake Superior is the largest of the Great Lakes, and its north shore is known for its rugged cliffs, pristine beaches, and breathtaking vistas.  
There is something about staying at a bed and breakfast that allows you to fully immerse yourself in this stunning landscape. At our Duluth bed and breakfast, you get to wake up each morning to the sound of waves lapping against the shore. You can sip a  cup of local, Duluth-roasted coffee while gazing out at the water.
Our bed and breakfast in Duluth sits on the shore of Lake Superior, the largest freshwater lake in the world, and no other Duluth bed and breakfast gets you closer to her shores than ours. 
Staying at a bed and breakfast lets you connect with other travelers and locals in a way that's simply not possible at a traditional hotel. Bed and breakfasts are run by people like us who are deeply invested in their communities and usually eager to share their knowledge of the area with their guests. By staying at our Duluth bed and breakfast, you'll have the opportunity to make new friends if you choose, learn about local history and culture, and get inside information on the best places to eat, drink, and explore.
As a Solglimt guest, you'll enjoy:
Full breakfast

 each morning prepared with locally grown, organic foods and organic coffees and teas  

 

Hot coffee and tea are always available

 

Complimentary cold soda and bottled water, snacks, and cookies

 

Private bathrooms in all suites

 

Aveda bath amenities, including lotion, soaps, shampoo, and bath salts

 

Wireless internet access

 

Cable TV/VCR in every suite

 

In-room heat and air conditioning 

 

Amazon Echo in every room

 

Award-winning gardens

 

Long walks on the beach

 

Beautiful starry nights

 
The Solglimt Rose Package: For a birthday, anniversary, or romantic getaway, nothing says it better than roses. As a special secret for your important someone, add a dozen roses arranged in a vase to your room at our bed and breakfast for $30. 
Our Green Commitment: From local and organic food to environmentally-friendly products and building materials, our bed and breakfast strives to pamper our guests and care for the environment. Read more.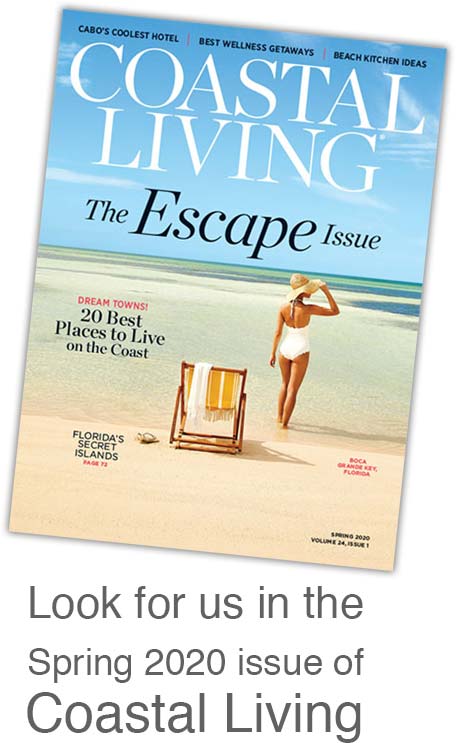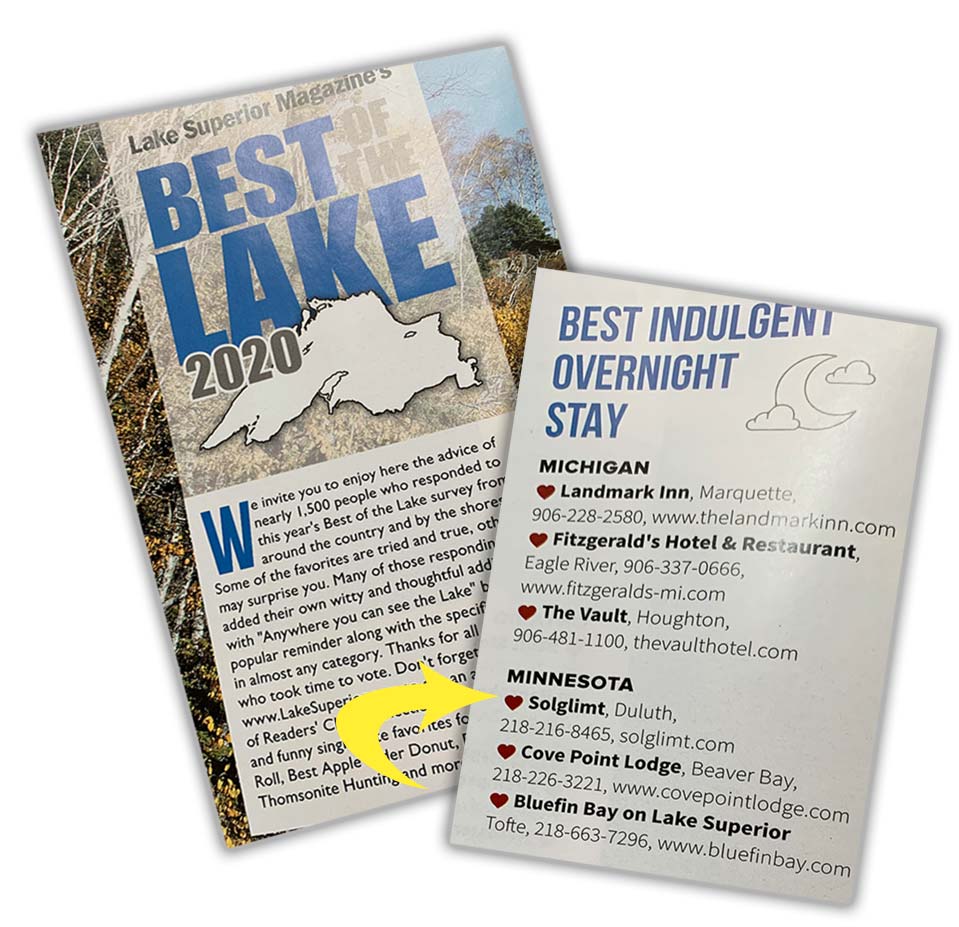 Rated as best Indulgent Overnight Stay on Lake Superior
If you're looking for the feel of a traditional bed and breakfast, this is the room for you.
Enjoy your king-sized bed and view of the city, Duluth Harbor, and St. Louis Bay.
This is our only suite with a private deck. It overlooks Lake Avenue — a street that leads to the Lift Bridge and bustles with activity during tourist season.
At any moment you can retreat to the private gardens of the bed and breakfast and the sand beach of Lake Superior — or the new rooftop deck that overlooks the harbor. They're all just a few steps away from your suite.
This suite is named after a former Congressional Medal of Honor recipient, Oscar Nelson. Oscar Nelson won the medal for his extraordinary bravery during his tour with the Navy. You can learn more about him and see his medal at the Veterans Memorial Hall in the Duluth Depot.
In 1910 Nelson built the two-room cabin that we expanded into Duluth's only waterfront bed and breakfast. By staying in this suite, you mark the beginning of our journey.
Real time Current Room Availability as of
Looking for an affordable room that redefines what's possible for a bed and breakfast?
Then choose this colorful loft with an open layout that spans the third floor of our bed and breakfast in Duluth. As one guest noted, "This is definitely not your great grandma's bedroom."
The inspiration is Open Green — a painting by Wassily Kandinsky, the Grovers' favorite artist. Imagine that you could walk directly into a painting and enter the creator's mind. That's Kandinsky's Suite.
Guests describe it as "bold," "energizing," and a "visual feast." Come for return visits. You'll discover new details every time.
Kandinsky's Suite is popular with people celebrating honeymoons and wedding anniversaries. At the same time, it's compact and cozy — perfect if you're traveling alone on business or a personal getaway.
This suite features a queen-sized European Pillow top bed that's a little more plush than what you'll find in our other suites. Enjoy your bird's eye view of Duluth Harbor and St. Louis Bay. Watch the Lift Bridge framed through the skylight.
Real time Current Room Availability as of
When we expanded this Duluth bed and breakfast in 2009, we wanted to prove that comfort and energy conservation can go together.  With its high-efficiency shower, clean-burning fireplace, and sod roof, this suite is a case in point.
As one guest noted: "This is an all green — environmentally conscious — suite that had every need met." The modern design offers colors that people describe as "earthy," "warm," and "relaxing."
Open the windows and you'll hear waves that remove you from the activity on Lake Avenue. Sleep on a firm, queen-sized bed. Then wake up to a view of the Solglimt gardens, Lake Superior, and the sand beach.
If you want a clear view of sunrise and sunset over the water, you'll find Park Point to be one of our best options.
There's an entry for this suite in the bed and breakfast guest book:
"We wanted someplace special to celebrate 36 years of marriage – someplace personal, quiet, and comfortable. The Park Point is all that and more."
Real time Current Room Availability as of
This suite offers one of our best views of Duluth Canal — ideal for watching longships glide under the Lift Bridge and into the harbor.
You also get a direct view of Lake Superior and Solglimt gardens. Enjoy the king-sized bed and extra privacy that comes with a suite at the end of the hall.
It's quiet, too — removed from the bustle of street activity on Lake Avenue. Added with the 2009 expansion of our bed and breakfast, this suite was built from scratch with a clean-burning fireplace and other green technology.
Our guests tell us how they use the space to slow down, gain perspective, and pamper themselves:
"We stayed in the recently finished Aerial Bridge Suite…. AHHHHH…. The Thermomasseur tub was a welcome oasis after an unusually hectic week for us. The separate walk-in shower was incredible, and it was tempting to spend our entire time in there!"
"From the king-sized bed to the amazing view to the really unique three-level shower — hard to describe, but very cool — this was an excellent room."
"What a beautiful view. Between the comfy bed, the warmth from the fireplace, and the fabulous tub, we forgot about the real world."
Real time Current Room Availability as of
A guest of our Duluth bed and breakfast described this as our "flagship room."
With two large windows facing the water, the Lake Superior Suite offers a panoramic view of our city's sloping hillside and the canal — the widest from any of our suites.
From the two comfortable chairs, you're front-row to lake activity — sailboats, row boats, seagulls, and whitecaps. The rise of the Lift Bridge. Longships that glide in and out of the harbor during the shipping season.
During a Duluth summer, you'll see swimmers and people on jet skis. In winter you see ice formations on the lake that shift daily. And year-round you get flaming sunrises and sunsets.  Open your windows to the sound of waves washing on the sandy shore. Listen, too, for the sound of a fountain just a little below you.
The Lake Superior Suite is the bed and breakfast 's most spacious, with room for a king-sized four-poster bed. There's a 20-foot ceiling — and sometimes a pink flamingo or two nestled in the cross beams up there.
This suite is a favorite for couples celebrating a honeymoon, wedding anniversary, getaway or another romantic special occasion. In the guest book for this suite, one phrase appears repeatedly — "breathtaking."
Real time Current Room Availability as of