Nestled along the shores of Lake Superior, our Duluth Bed and Breakfast stands as a serene sanctuary, ready to transform your dreams of a peaceful getaway into a beautiful reality. In the hush of Fall's gentle arrival, an allure beckons us away from the hustle and bustle of daily life. It's a season of transformation, where nature paints landscapes in vibrant red, orange, and gold hues, and the crisp air carries the promise of warmth and connection. For those searching for a romantic escape, there are so many things to do in Duluth, Minnesota, which offers the perfect canvas for an unforgettable fall retreat.
The moment you step across the threshold of our lakefront Duluth Bed and Breakfast, you're embraced by an atmosphere of warmth and intimacy. Every facet of our Inn has been meticulously designed to create an environment conducive to relaxation, rekindling, and, most importantly, romance. The soft, comforting glow of the fireplace, combined with the breathtaking views of Lake Superior from your window—and fun fact, Lake Superior was just named one of the "10 Most Picturesque Places in America!" 
Picture this: you wake up in the morning to the gentle, rhythmic lullaby of Lake Superior's waves. As you draw back the curtains in your cozy guest room, you'll greeted by the soft, golden light of dawn. Each morning at our Duluth Bed and Breakfast, we'll start your day with a wholesome breakfast served in our elegant dining room. And then the rest of the day is up to you! Head out for adventures, or take it easy and sit back and take in the view. Book your getaway at Duluth Bed and Breakfast today!

Our Favorite Romantic Things to Do in Duluth, MN
There are so many fantastic things to do in our area to reconnect and spend some quality one-on-one time together. If you're the kind of couple who bonds best over outdoor adventures and immersing yourselves in nature, you've come to the right place! However, if elegant dinners, craft cocktails, and shopping are more your speed, you'll be more than happy here as well!
Here are ten romantic things to do in Duluth on your next getaway:
Autumn Drives on the North Shore: Embark on a scenic journey along the North Shore Scenic Byway, where nature's vibrant palette harmonizes with the tranquil beauty of Lake Superior's shores. Ask the innkeepers at our Duluth Bed and Breakfast for the best route to set out!
Head to the Spa: If relaxation and rejuvenation are on the menu, there's no better way to refresh than with a couple's massage or spa treatment; we can't say enough positive things about Fitger's Salon & Spa, Pebble Spa, and Infinity Massage & Wellness.
Lighthouse Tours: Celebrate Duluth's rich maritime heritage by visiting its iconic lighthouses, with the majestic Split Rock Lighthouse standing as a sentinel to your romantic journey.
Hiking in Nature's Embrace: Reconnect with the natural world and each other through intimate hikes in Jay Cooke State Park and the mesmerizing beauty of Gooseberry Falls State Park.
Canal Park Promenade: As the sun sets, take a leisurely, hand-in-hand stroll along the enchanting Canal Park Duluth Lakewalk. Watch the ships glide by and explore charming shops and eateries.
Cultural Evenings: Immerse yourselves in the culture of Duluth by attending events like a Duluth Symphony Orchestra concert for a night filled with classical enchantment. Art galleries
Stargazing Under the Autumn Sky: On clear, crisp nights, find a secluded spot far from the city lights and stargaze out over the lake. Our waterfront property is the perfect place to glimpse the beautiful stars and constellations.
Elegant Dining in Duluth: There are so many fantastic restaurants in Duluth for casual eats and fine cuisine. We love Va Bene for classic-modern Italian, Lake Avenue Restaurant and Bar, and Canal Park Brewing for casual eats and great beer. These spots are all within walking distance of our Duluth Bed and Breakfast as well!
Craft Cocktails with a View: For the spirit of Lake Superior, meaning house-distilled gin, vodka, and more, Vikre Distilling is such a fantastic date night spot in Canal Park.
Shop 'til you Drop: You'll love exploring downtown Duluth's local boutiques, art galleries, and quirky shops. It's always fun to find a piece of artwork or a special gift to commemorate your adventures together!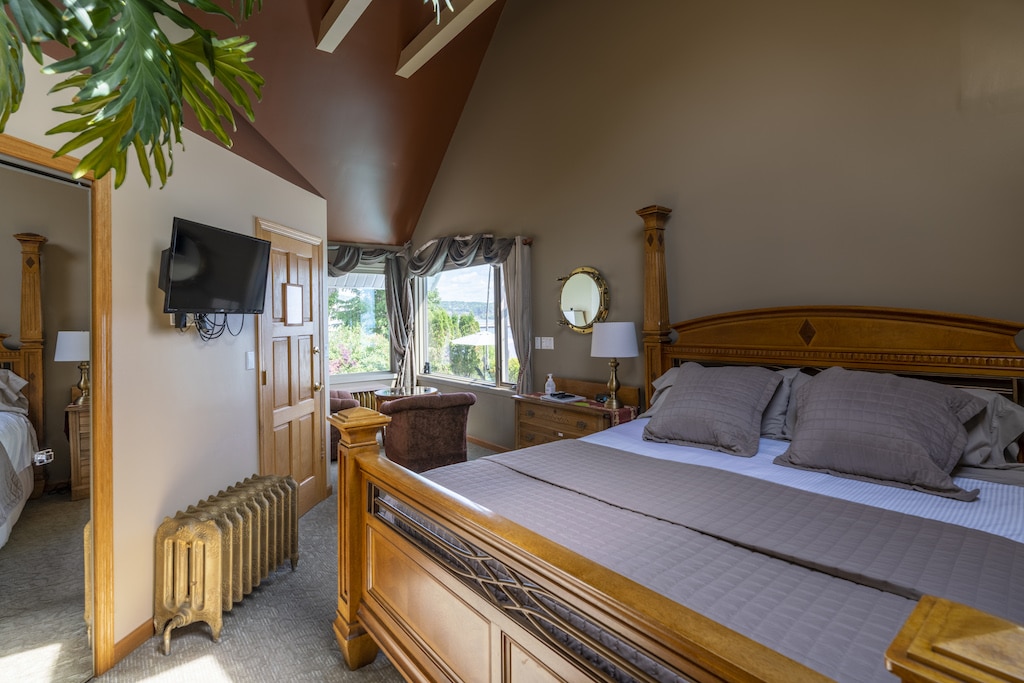 Enjoy the Romance of our Duluth Bed and Breakfast
Our Duluth Bed and Breakfast invites couples to soak up the beauty and vastness of Lake Superior. It's the perfect backdrop for a romantic fall getaway, with vibrant colors at every turn. Start each day rested and with a gourmet breakfast with our own coffee blend, always brewed fresh and piping hot. Enjoy a cup out in the gardens and take in the morning happenings on the lake.
After exploring all the best things to do in Duluth, you'll be ready to settle into your cozy guest suite at our Duluth Bed and Breakfast. Our five elegantly appointed guest rooms offer the perfect space to relax and refresh. En-suite bathrooms are equipped with plush towels, robes, and Aveda bath products. The Oscar Nelson Suite (pictured here) is a favorite for couples celebrating special milestones or anniversaries or just hoping to reconnect.
Join us this Fall, and let your love story begin anew at our Duluth Bed and Breakfast. You'll quickly see why our guests return year after year to partake in our stunning views, cozy lodging, and welcoming hospitality. We can't wait to host you in Duluth for your next romantic getaway! Start planning and get your reservation on the books today.