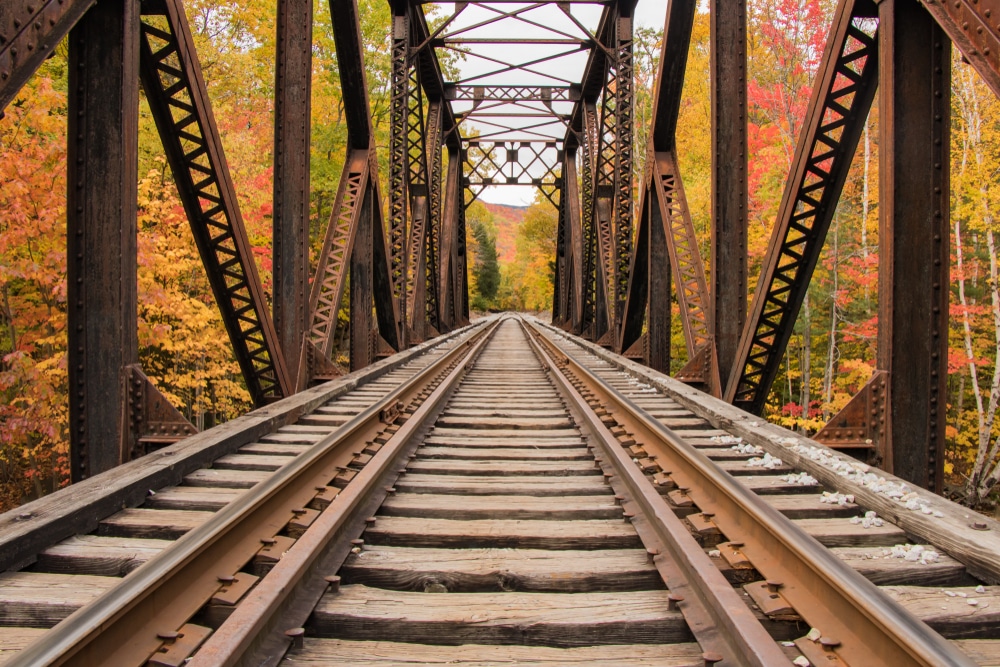 One of the absolute best ways to take in the stunning Duluth fall colors is with an excursion aboard the North Shore Scenic Railroad. This historic railroad operates between Duluth and Two Harbors on a 28-mile stretch through the downtown, Canal Park, along the sparkling waters of Lake Superior, and up into the breathtaking north woods, always stunning in the autumn months. The fully narrated tour offers guests a lovely history lesson on the area and tidbits about the fascinating landmarks along the way.
As you ride along the railway, you'll see the Duluth fall colors pass by in a beautiful blur. The North Shore Scenic Railroad offers a long list of excursions, from classic rides with a historic bent and murder mystery dinners to beer tastings and pizza parties, there's an option for everyone. Several trains depart each day from the historic Duluth Union Depot. It's a fantastic addition to a romantic getaway, couple's, or friend's trip.
While visiting Duluth this fall and enjoying this amazing city, you'll want your lodging option to match this grandeur. Our Duluth Bed and Breakfast is a luxurious choice for a perfect getaway on the shores of tranquil Lake Superior. Our waterfront B&B is in the ideal location to head out and explore, and our welcome hospitality, cozy guest rooms, and extensive amenities will be awaiting your return. Fall is a popular time to visit, so plan ahead, and make your reservations today!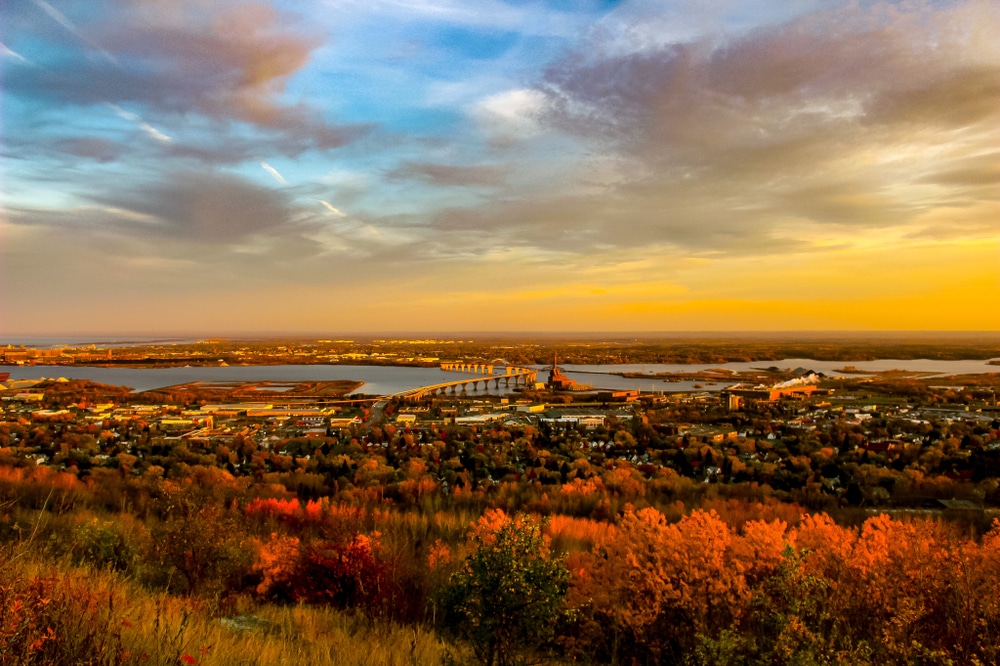 View the Duluth Fall Colors from a Scenic Train Ride
Adding a ride along the North Shore Scenic Railroad is such a lovely adventure to view the beautiful Duluth fall colors. The North Shore Scenic Railroad offers scenic excursions along the historic Lakefront Line, a 26-mile stretch of rail between Duluth and Two Harbors. This rail corridor has served as a vital transportation link for over a century.
Here's what to expect on an excursion with the North Shore Scenic Railroad to view the Duluth fall colors:
The Duluth Zephyr: The most popular choice to see the Duluth fall colors, This 75-minute trip takes you through downtown, along the shoreline of Lake Superior, and through the historic Congdon Neighborhood wooded area, before arriving at a stopping point where the train briefly turns around to return to the Depot. The first-class option is a dome car with a full glass ceiling—ideal for enjoying the vibrant hues!
First Class Two Harbors Turn: For full-day excursions, This trip includes a six-hour ride up the North Shore, with a layover stop for lunch at a local restaurant (food not included in ticket pricing.) Explore the beautiful town of Two Harbors with plenty of charm, boutiques, and cafes.
Elegant Dinner Train: This two-and-a-half-hour ride offers the same wonderful scenery but adds an elegant dining experience. Guests ride in an air-conditioned "SkyView" Domecar and are served some of the best regional chefs who create delicious cuisine. It's such a romantic way to take in the Duluth fall colors and relax with your parter in style.
Murder Mystery Express: For those who want to add a little intrigue to their train rides, the murder mystery express offers dinner and show, that you can play a part in! On the two and half hour tour, you'll enjoy a lovely meal and solve a crime all in one night.
Beer Tasting Train: This coveted event is taking place on October 6th, 2023, and offers a beautiful tour of the Dultuh fall colors and a fantastic tasting of local beers. Expect pours from establishments like Bent Paddle, Earth Rider, Blacklist, and Duluth Cider. This ride always sells out; book your spot today!
Fall Foliage: Minnesota is known for its stunning fall foliage, and the shores of Lake Superior and the surrounding wilderness areas provide a gorgeous backdrop for the changing leaves. A ride in autumn allows passengers to witness the vibrant Duluth fall colors on display in bright reds, oranges, and yellows as the train winds its way through the countryside.
Scenic Views: The train route takes you through some of the most beautiful landscapes. You can expect to pass through valleys, across bridges, and alongside the rugged shores of Lake Superior, all providing stunning views of the natural surroundings. Fall adds an extra layer of beauty to the scenery.
There are plenty of other ways to enjoy the stunning Duluth fall colors; head over to our blog to learn more about hiking, state and city parks in the area, and the top attractions. Your Innkeepers are always more than happy to offer personalized recommendations as well!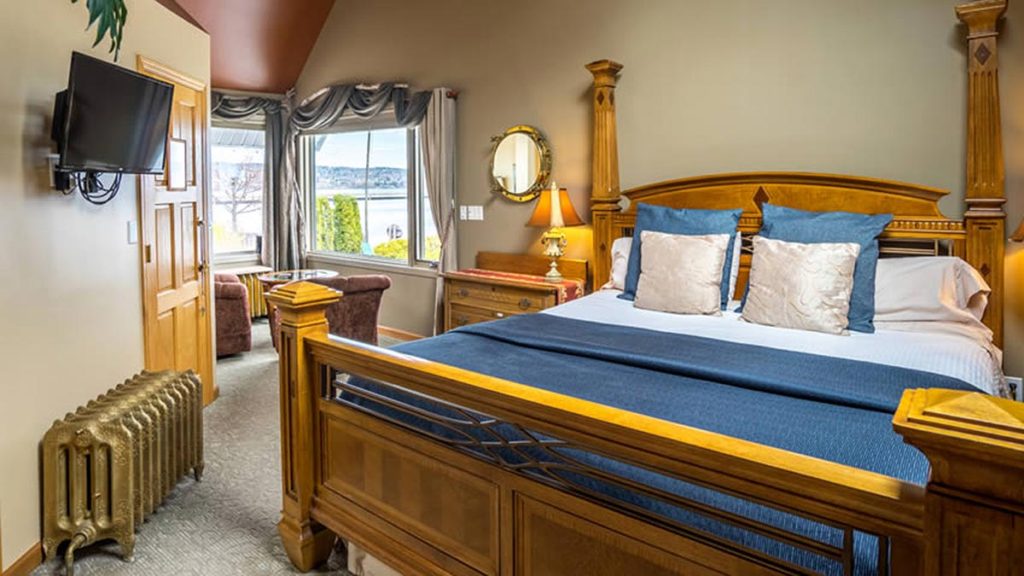 Luxury & Location at our Duluth Bed and Breakfast
After a train ride absorbing the stunning Duluth fall colors, our Duluth Bed and Breakfast is the perfect place to retreat! Situated on the shores of Lake Superior, our peaceful garden surroundings and deck areas provide a sense of tranquility and calm. Guests can admire the harbor's comings and goings and enjoy a beautiful stretch of sandy beach just steps away, perfect for picnics and dipping toes in the crisp waters.
Each of our five guest rooms is uniquely decorated to reflect Duluth's beauty and culture. Amenities include private baths with complimentary Aveda products, a fireplace, sitting nooks, and beautiful views. Comfortable beds are dressed in fine linens, and plush robes are provided. All of our guest rooms offer an oasis for your romantic getaway or solo retreat. Recently, our Duluth Bed and Breakfast was featured in Travel + Leisure magazine stating we are a "town favorite."
We offer a gourmet and wholesome breakfast every morning, complete with our house-blend coffee, fresh fruit, and juices. Enjoy the tranquil sounds of the lake from our dining room or back deck. We offer a long list of other amenities, including EV charging stations, common rooms, a baby grand piano, and ample outdoor space to relax in the fresh air. Reserve your room today!