The Bentleyville Duluth "Tour of Lights" is the largest walk-through holiday light display in the entire United States! Each year, from late November through the end of December, more than five million sparkling lights are strung up and twinkle away on the waterfront of Lake Superior. Held at the 20-acre Bayfront Festival Park along the shores of beautiful Lake Superior, where the Bentleyville Duluth display puts on a show—it's a magical way to celebrate the holidays.
Bayfront Park has been lit up yearly since 2009 by the impressive Bentleyville Duluth "Tour of Lights." Initially, it was a charming yearly home decor hobby of Nathan Bentley. However, the festival rapidly gained popularity beyond what his street could accommodate. In its first year, the event drew over 150,000 visitors, and since then, it has consistently attracted even larger crowds. For numerous residents, it has become a cherished family holiday tradition.
Moreover, every year, we see many out-of-town visitors joining in on the fun, and they always love lodging at our waterfront bed and breakfast in Duluth—you can even see the display off in the distance from our property. We're in the ideal location within walking distance to explore Bentleyville Duluth, so that means you won't need to deal with parking, which can be tricky at the popular event. Afterward, you'll love retreating to your cozy guest room, the warmth and welcoming hospitality of our Inn on Lake Superior, for a warm cup of hot cocoa and an evening by the fire. Book your winter retreat today!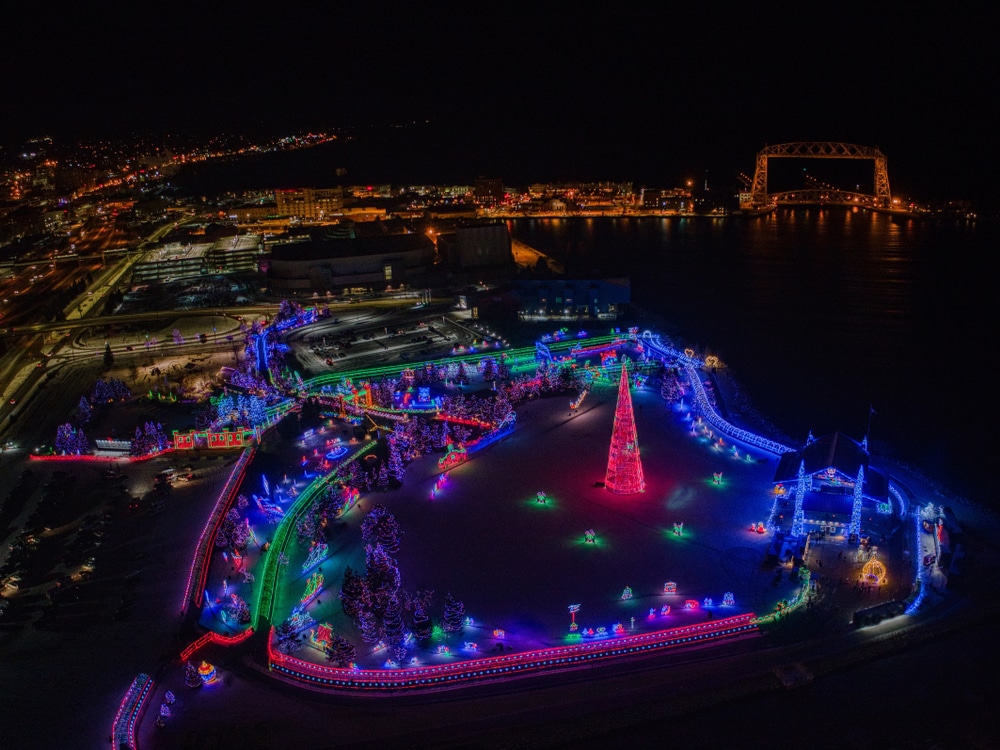 The Holiday Tradition of Bentleyville Duluth "Tour of Lights"
The Bentleyville Duluth "Tour of Lights" doesn't start until the end of November, but it's never too soon to start planning your visit. As we all know, the time around the holidays can slip away before we know it! A winter getaway in Duluth is a gift, and you and your partner deserve a needed break from the packed schedules and festive parties this season can bring. It's best to secure your lodging early!
Here are six things to know about the Bentleyville Duluth "Tour of Lights" before you go:
Stay Warm: Bring your layers and bundle up! This outdoor installation opens at 5 p.m. and welcomes guests into the evening until 9 p.m. Sunday to Thursday and 10 p.m. on weekends. It can get particularly chilly along the waterfront, so it's best to come prepared. This year, the event opens on Saturday, November 18th, and runs through Tuesday, December 26th.
Hit the Gift Shop: If you realize you didn't wear enough layers for the Bentleyville "Tour of Lights," pop into the gift shop, where you'll find festive hats, scarves, and sweaters to commemorate your visit and keep the chill at bay.
Free Entry: There is no entry charge to view these millions of lights! The Bentleyville Duluth Tour of Lights is completely free (unless you pay the $10 charge for parking). Guests can enjoy complimentary hot cocoa, coffee, popcorn, and marshmallows to roast over the fire.
Naughty or Nice?: Santa and Mrs. Claus will be on hand for those who want to say hi to the famed Christmas duo. You can even submit a name for the naughty or nice list here, which will be on display at the park, a fun little romantic gesture for those on a romantic winter getaway!
For a Good Cause: The Bentleyville Duluth Tour of Lights is a charitable event that collaborates with the Salvation Army to gather donations of toys and non-perishable food items for the Duluth community and beyond. You can bring an unwrapped toy or non-perishable food item to aid this admirable endeavor. Last season, over 257,000 Bentleyville guests helped raise 7,984 lbs. of food and 1,351 toys!
Enjoy Canal Park Dining and Drinks: After your stroll through the sparkling lights, you'll be ready to eat! Thankfully, the location of Bayfront Park is right near some of the best restaurants in Duluth and within walking distance of our bed and breakfast. Here's our latest list of our favorite Duluth restaurants and bars.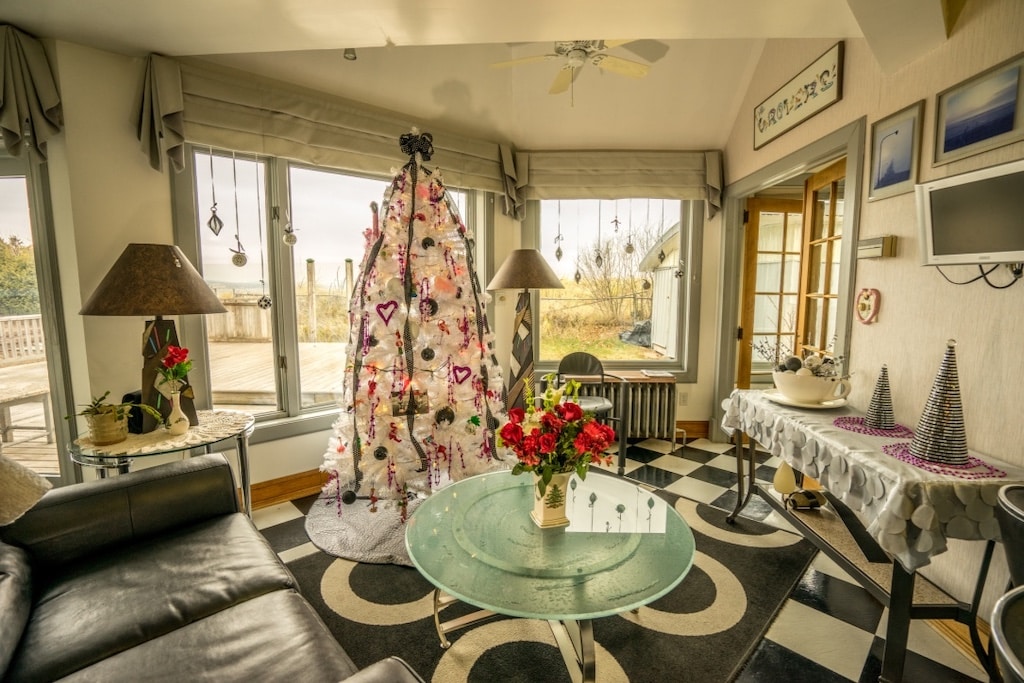 Get into the Holiday Spirit at our Bed and Breakfast in Duluth, MN
At our waterfront Bed and Breakfast in Duluth, we enjoy celebrating the holiday season with beautifully decorated trees, fragrant wreaths, seasonal recipes, and Poinsettias. The first snow of winter is always a treat, as the expansive shores of Lake Superior are covered in a blanket of white. Come indulge in the season's magic with us with Bentleyville Duluth, holiday shopping, and cozy nights by the fire.
Winter is a great time to join us for breakfast! We're always using seasonal ingredients in our wholesome and flavorful recipes. You'll see some holiday favorites from baked goods and treats during your winter getaway at our Inn. There are always hot beverages available, so you can enjoy your coffee, hot tea, or cocoa at your leisure in our shared spaces, bundled up on the deck, or in the privacy of your guest room.
Our five beautifully appointed guest rooms are all unique! We have guests who return each year to their favorite space and some who like to mix it up and try each room. All of our rooms are peaceful and quiet, with modern artwork, custom furnishings, and en suite bathrooms. Start planning your next winter getaway today and get your reservation on the books!