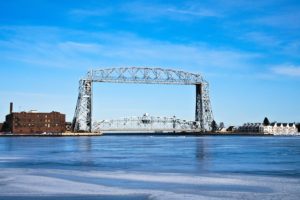 The Canal Park Duluth neighborhood packs in all the features vacationers need for a wonderful day in the city. The fabulous lakefront location offers great views of Lake Superior and the iconic Aerial Lift Bridge. The Lakewalk pedestrian and biking path hugs the shoreline and connects the Canal Park Duluth District to the city parks, beaches, and downtown.
However, Canal Park is a vibrant area on its own, that includes great restaurants, unique shops, exciting entertainment, and activities. The charming streets are lined with inviting cafes and interesting stores. The city's entertainment hub, the Duluth Entertainment Convention Center (DECC) is also located in the Canal Park Duluth District. After a day strolling the lakefront, shopping and enjoying lunch, plan a perfect evening out to a concert, ballet or sports event. Then top off the night at one of the craft breweries or local pubs. 
The beautiful Solglimt Bed and Breakfast sits right on the water's edge in the lively Canal Park Duluth neighborhood. Solglimt Bed and Breakfast is a small, boutique Inn located on the pristine shores of Lake Superior. Guests enjoy easy access to all the Canal Park Duluth District attractions at this tranquil retreat. Wake each morning to a gourmet breakfast, and sweeping lake views from the rooftop deck, gardens or porches. Cozy up by the fire after a day of adventures in Duluth. Reserve your elegant guest suite with us today for a wonderful and restful vacation in the new year.
The Best of the Canal Park Duluth District
Relax at our Duluth Bed and Breakfast
You'll not have to wander far from the Solglimt Bed and Breakfast to access all the fun in the Canal Park Duluth neighborhood. Everything you need for an exciting and relaxing Duluth vacation is waiting for you at our serene bed and breakfast. Book your well-deserved getaway and we'll see you in 2020!