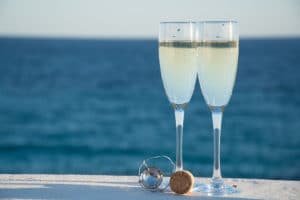 A Bed and Breakfast Duluth MN getaway to the beautiful Solglimt Inn has all the romance, luxury and special touches not found anywhere else. As Valentine's Day approaches, thoughts of a couple's escape come to mind. Imagine surprising your loved one with an intimate vacation at our waterfront Bed and Breakfast on the shores of Lake Superior. Discover the benefits of a magical Bed and Breakfast Duluth MN getaway:
The Personal Touch – Experience the attention to detail and warm hospitality found when staying at a premier bed and breakfast. Your hosts at the Solglimt bed and breakfast are natives of Duluth and serve as your personal concierge during your vacation. They know all the best local restaurants and attractions to help customize your stay. Their dedication is seen in the manicured gardens, charming decor, and wonderful service they provide.

A Gourmet Breakfast – This may seem obvious, but it's nice to wake up to a wonderful meal every morning during your bed and breakfast Duluth MN getaway. Who wants to cook or do dishes during a romantic escape? Guests of the Solglimt enjoy a filling 3-course meal made with fresh, locally grown produce. The lovingly hand made meal is also served with Solglimt's exclusive custom blend of Alakef Coffee. 

The Best Location – Most bed and breakfast Duluth MN locations have something unique about them but the Solglimt's is truly amazing. The lakeside cottage offers guests 120 feet of sandy beach and breath-taking Lake Superior views. Enjoy the waterfront views from your comfortable guest suite, one of the many decks or the newly added roof-top deck with 360-degree views.
The Solglimt is also located in the fun Canal Park neighborhood of Duluth, so guests enjoy walking to great shopping, entertainment, and restaurants. Spend the day strolling on the scenic Lakewalk or touring the beautiful Glensheen Mansion. Duluth Entertainment Convention Center (DECC) also offers a wide variety of options for a memorable evening out. Plan a romantic dinner out at Canal Park favorites such as; Lake Avenue Restaurant and Bar, Bellisio's Italian Restaurant & Wine Bar, and Fitger's Brewhouse, Brewery and Grille. Plan an unforgettable and romantic Bed and Breakfast Duluth MN getaway.
5 Luxurious Bed and Breakfast Duluth MN Suites at Solglimt
Guests have a choice of 5 elegant suites during their bed and breakfast Duluth MN escape to the waterfront Solglimt Inn. Enjoy the privacy of your own generous suite with fireplaces, soaking tubs, and water views. Feel your stress melt away while walking along the sandy beach or relaxing on one of the many decks enjoying the lake view. Choose your perfect suite for an ideal bed and breakfast Duluth MN getaway:
Aerial Bridge Suite – Named after the iconic Duluth bridge, this room has the clean, classy lines of a refined, modern style. Enjoy Lake Superior and garden views from your luxurious king-sized bed. Spend the evening cozied up by the fireplace or soaking in the huge jetted tub. 

Park Point Suite – The warm, inviting colors of this suite create a relaxing feel of a sanctuary, away from the rest of the world. Guests enjoy a comfortable queen-sized bed, hydro-massage shower, and fireplace. The suite also has a garden, lake and beach views.

Oscar Nelson Suite – Named for the WWI Congressional Medal of Honor winner for his bravery on tour with the navy. Nelson was also the builder of the original 1910 beach cottage that became the Solglimt Inn. The classic style of the room reflects its link to the past but has all the modern comforts. Guests love the suite's fireplace, jetted tub and king-sized bed. It's also the only suite with a private deck to soak up the city, Duluth Harbor, and St. Louis Bay views.

Lake Superior Suite – This is the Inn's "flagship room" perfect for a honeymoon, wedding anniversary, or any romantic occasion. This grand suite includes 20-foot tall ceilings, a king-sized four-poster bed, and a steam shower. However, it's the two enormous corner windows with sweeping views of Lake Superior that make this suite so special.

Kandinsky's Suite – This third-floor loft-style suite celebrates the whimsy of the colorful art of Wassily Kandinsky. The cozy space has a joyful feel and all the perks you'll want during a bed and breakfast Duluth MN escape. Skylights fill the room with sunshine and views of Duluth Harbor and St. Louis Bay. Sink into a queen-sized, pillow-top bed next to a small fireplace after an exciting day exploring Duluth.
What could be more thoughtful than planning a vacation away together? Give the gift of a romantic bed and breakfast Duluth MN getaway this Valentine's Day. Reserve your elegant guest suite at the Solglimt bed and breakfast and surprise your loved one.