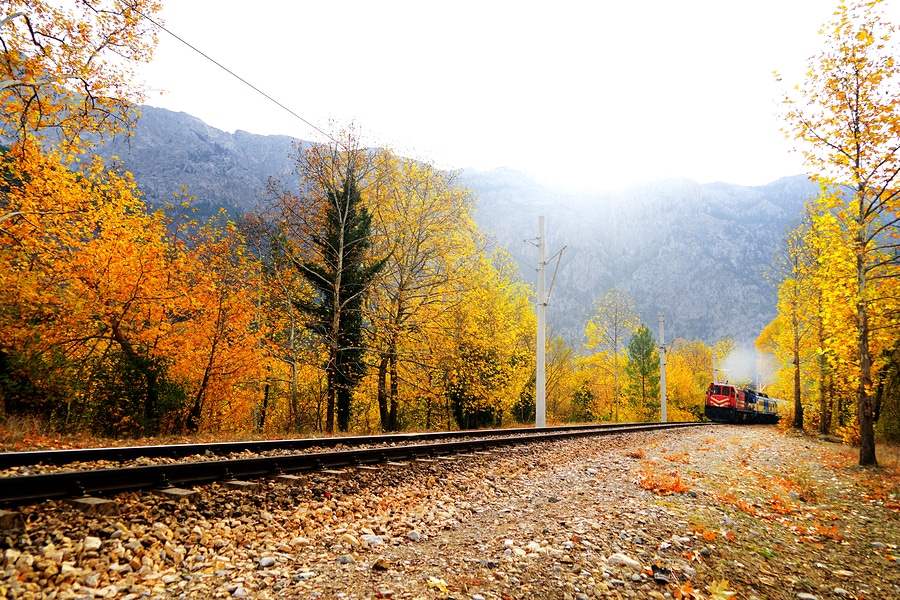 The North Shore Scenic Railroad is a must-see for anyone visiting the Duluth area this fall! This historic railroad operates between Duluth and Two Harbors on a 28-mile stretch through the downtown, Canal Park, along the sparkling waters of Lake Superior, and up into the breathtaking north woods in autumn. It once connected the isolated city of Duluth with America's expanding railway system. Passing through many owners over the years, the North Shore Scenic Railroad has grown into an operation that is both educationally and historically significant today.
While visiting Duluth this fall and enjoying all this amazing city has to offer a luxurious stay at Solglimt Bed and Breakfast will be the perfect getaway you been dreaming of! Sitting on the shores of tranquil Lake Superior, our Minnesota Inn is the best spot to rejuvenate after exploring the Duluth area. For the best place to relax this fall book your room today! 
Ride The North Shore Scenic Railroad this Fall
The City of Duluth is full of surprises and interesting experiences unique to this part of Minnesota. The North Shore Scenic Railroad is one of many memorable ways to see this beautiful place. Several trains a day depart from the historic Duluth Union Depot so you are sure to not miss out on this adventure. From popular trips for the whole family to more specialty excursions like the "Beer Train" the North Shore Scenic Railroad has something for everyone. Here are 3 great reasons to ride the North Shore Scenic Railroad this fall!
History comes alive on a train excursion! All rides are fully narrated tours that tell the history of Duluth, the harbor, and the railroads that built Northern Minnesota and Wisconsin. If you can't get enough and need more history of railroads in the area the Lake Superior Railroad Museum operates at the train depot. The museum has an impressive collection of historic railroad equipment and is a great place to supplement any ongoing interest of the subject.
It's not called the North Shore Scenic Railroad for nothing! This incredibly scenic ride is a great way to see Duluth and the shoreline. Fall is a particularly magical time of year to go for a ride as the trees are changing with the season and the train ride becomes even more picturesque.
There are regular train excursions that are very popular year-round such as The Duluth Zepher and the Music and Pizza Train. But if you are here in the fall take advantage of special seasonal train excursions that are available. The Fall Colors Tour to Two Harbors is a must-see for those who want a full day of viewing the vibrant changing leaves up to the town of Two Harbors where you are free to enjoy shopping, dining, sightseeing. The Beer Tasting train, hosted by local breweries, is quite popular and always sells out! Then there is the Great Pumpkin Train, a fall tradition available October 15-18. Guests are brought to a pumpkin patch where they get to pick out their very own pumpkin to take.
More Great Things To Do In Duluth
It's no secret why Duluth is one of Minnesota's most popular tourist destinations. Sitting on the edge of gorgeous Lake Superior, this town is rich in history and experiences. From biking along the lakeshore to shopping in the Canal Park neighborhood, Duluth has something for everyone! Here are some more amazing things to do and see in Duluth this fall.
The Best Minnesota Lodging
After exploring and experiencing all that Duluth has to offer you'll need a place to recoup and relax in luxury. Our lakeside Inn is the perfect place to soak in the views, enjoy a good book, and let the world melt away. Our guest suites feature private baths, sitting nooks, plush robes, and king or queen size beds to help you get the best night's sleep.
We offer organic foods and produce every morning at our full gourmet breakfasts. You'll enjoy a bread course, a fruit course, and the main dish all lovingly prepared to help fuel up a day of exploration. If you are looking for the ultimate getaway this fall in a gorgeous and tranquil spot, book your stay at our Duluth Bed and Breakfast today!