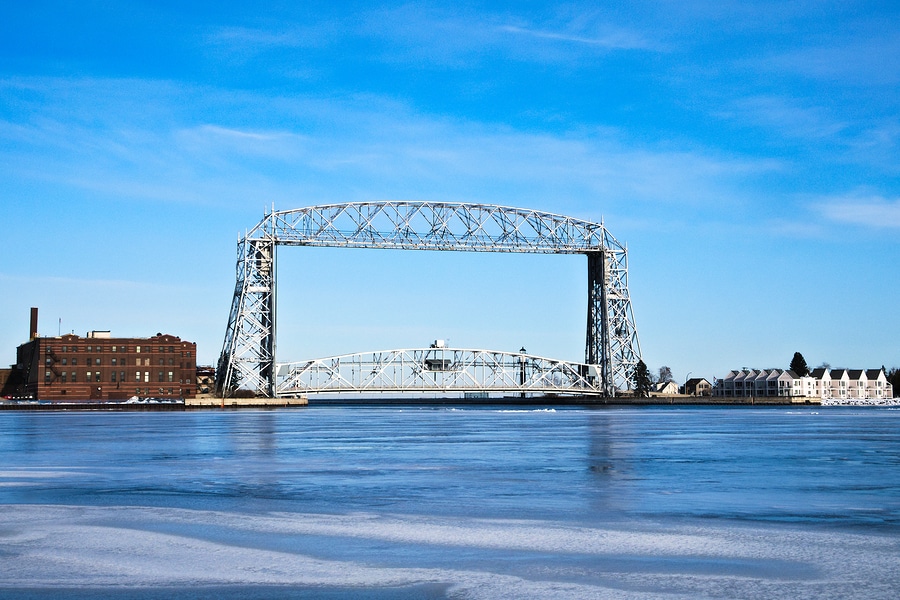 Located on the lakeshore of glittering Lake Superior, Solglimt Bed and Breakfast offers a unique opportunity to have front row seats to the Duluth Shipping season which runs from late March, when icebreakers arrive to make way for boats, all the way through January. This is a must-see if you happen to be visiting during this time. Canal Park is just steps away from our Inn where you can get a closer look at ships passing under the Aerial Lift Bridge.
Canal Park is great, but why not enjoy ship watching from the comfort of one of our decks and open spaces.  Solglimt Bed and Breakfast offers a distinctive experience that is sure to not disappoint! If you are looking for the ultimate spot to enjoy the 2020 shipping season in Duluth book your room today!
Your guide to the Duluth Shipping Season 2020
During Duluth's shipping season cargo ships from all over the world arrive and depart from Lake Superior Harbor carrying anything from wheat and salt to iron ore and other scrap metal. Be on the lookout for the "Lakers" and the "Salties" which are the 2 main types of boats you will see.
Lakers are large and can get be up to 1,000 feet long! You'll know you when you see one of these bulk carriers, that are specially built to sail the Great Lakes, because of either black or "hull red" color of the ship. They remain in the great lakes due to their size and not being able to fit through the St. Lawrence Seaway, a series of locks and canals that lead out to the Atlantic.
If you happen to notice ships that are much more colorful with hues of green, red and blue, you are looking at a Saltie. These vessels are identified not only by color but also by several cranes that rise above their decks. These ships are smaller than the Lakers with their maximum length being 740 feet. These boats can make their way through the salty St. Lawrence seaway and back again.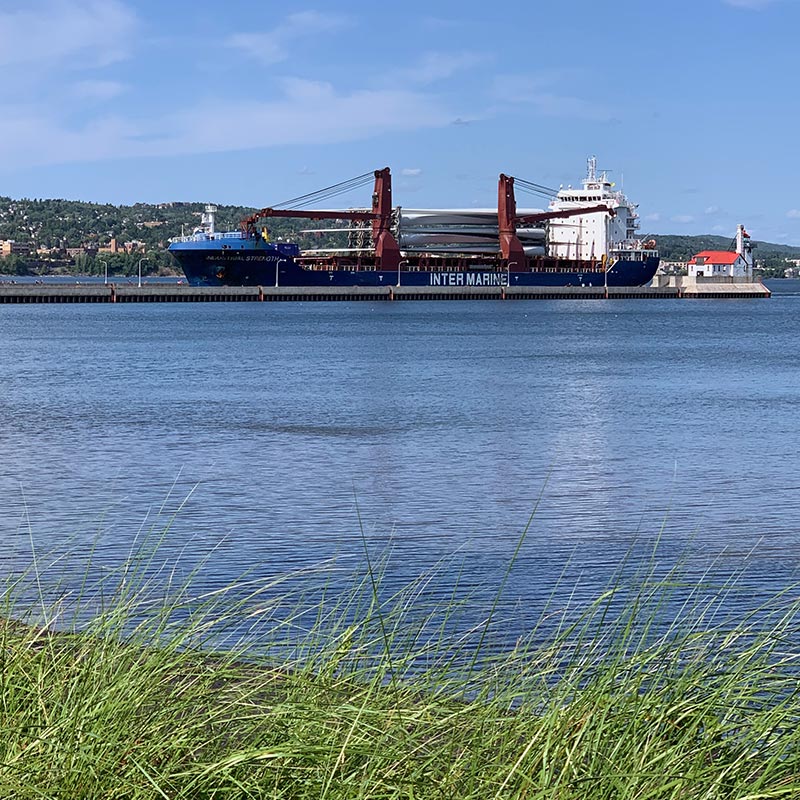 If you are wondering what kind of ship you are seeing during the Duluth shipping season or other statistics such as what they are carrying, speed, or status (moored, at anchor, etc.), harborlookout.com shows you everything that includes a map of where ships are located in the harbor.
All the vessels whether they are a Laker or a Saltie pass under the iconic Aerial Lift Bridge at some point along their journey. The Aerial Lift Bridge is a Duluth landmark listed on the National Register of Historic Places. First built in the early 1900s this engineering marvel is worth checking out.
The bridge spans the 390 feet of the ship canal that connects the City of Duluth to Minnesota Point. To let ships pass the bridge is raised to its full height of 135 feet. Be prepared for the customary horn blowing sequence such as the captain's salute, long-short-short, which is the most common ship signal exchange.
Home to the Aerial Lift Bridge is the Canal Park neighborhood which is a spot worthy of spending time in. Canal Park features the Lakewalk Promenade that connects the numerous shopping and dining options for the area. Another notable stop is the Lake Superior Marine Museum where you can learn more about the history of the Duluth shipping season. All within steps of Solglimt Bed and Breakfast!
The perfect place to watch ships pass by
Let our Minnesota Inn be your base for the 2020 Shipping season in Duluth! From our ideal location, you can relax in comfort in our award-winning gardens or relax and soak in the view from one of our porches or decks as vessels make their way in and out of the harbor. If you choose to venture out to the surrounding area of Canal Park, let us fuel up your day with a full gourmet breakfast every morning that includes locally grown and organic foods and produce.
Rest up in one of our 5 cozy and private guest suites each with a view of either Lake Superior or the Solglimt gardens. If you want the ideal place to stay during Duluth Shipping season 2020, Solglimt Bed and Breakfast is the epitome of style and comfort all in a central location. Book your room today!