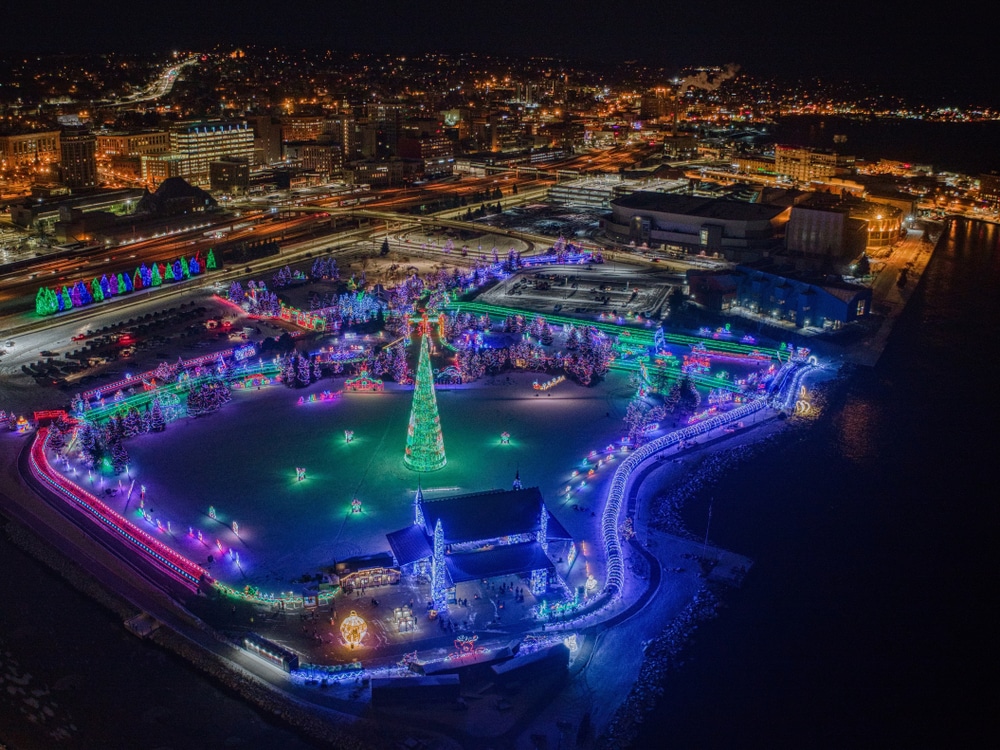 The Bentleyville Tour of Lights is the largest walk-through holiday light display in all of the United States. Each year starting November 20th through December 27th, more than five million bright lights go up and twinkle away on the waterfront of Lake Superior. Last year the Bentleyville Tour of Lights was converted into a drive-through event, but thankfully for 2021, it's back to a walking tour for better close-up views.
The Bentleyville Tour of Lights has been lighting up Bayfront Park each year since 2009. The display started as a yearly home decor hobby of Nathan Bentley, and it grew so popular that his street couldn't support the amount of traffic. The festival's first year brought in more than 150,000 visitors, and that number keeps growing year after year. For many locals, it's a family holiday tradition!
Duluth is a lovely place to visit during any season, but winter is exceptionally cozy and beautiful. While Minnesota is known to get quite chilly in this area, there are so many things worth bundling up for and exploring in the great outdoors. It's incredibly cozy at our Duluth Bed and Breakfast in the winter months. A favorite pastime: Curl up by the fire with hot cocoa and a good book. Join us this winter and book your next stay today!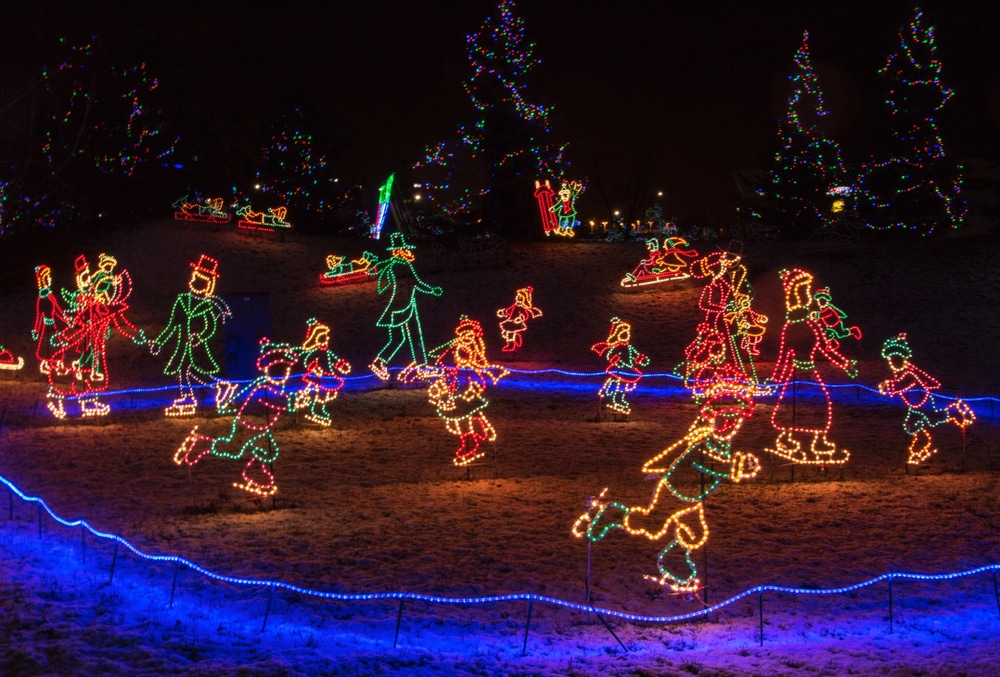 Enjoy the Festive Displays at Bentleyville Tour of Lights
The Bentleyville Tour of Lights doesn't start until the end of November, but it's never too early to start planning your visit. Especially around the holidays when you're juggling all of the fun things that come along with them. We love hosting guests around the holidays, everyone is in great spirits, and there's so much to do in Duluth.
Here are six things to know about the Bentleyville Tour of Lights before you go:
Bring your layers and bundle up! This outdoor installation opens at 5 pm and welcomes guests into the evening until 9 pm Sunday to Thursday and 10 pm on weekends. It can get particularly chilly along the waterfront, so it's best to come prepared.
There is no charge to view these millions of lights! The Bentleyville Tour of Lights is completely free, other than a $10 charge for parking. Complimentary hot cocoa, coffee, popcorn, and marshmallows for roasting over an open fire are also offered to guests.
Santa and Mrs. Claus will be on hand for those who would like to swing by for a free visit. You can even submit a name for the naughty or nice list here, which will be up on display at the park.
If you find yourself a bit chilly on arrival at the Bentleyville Tour of Lights, swing on by the gift shop, where you'll discover hats, scarves, and sweaters to commemorate your visit and keep you warm.
The Bentleyville Tour of Lights is a non-profit event, and they partner with the Salvation Army to collect donations of toys and food to serve the Duluth community and beyond. Bring an unwrapped toy or non-perishable food item to help support this good cause and spread the holiday cheer far and wide.
After your visit, you'll probably be ready for dinner! Thankfully, the location of Bayfront Park is right near some of the best Duluth restaurants. Many of which are also within walking distance of our Duluth Bed and Breakfast—maybe order curbside pick up and bring it on back to enjoy in the warmth and privacy of our lakefront Inn.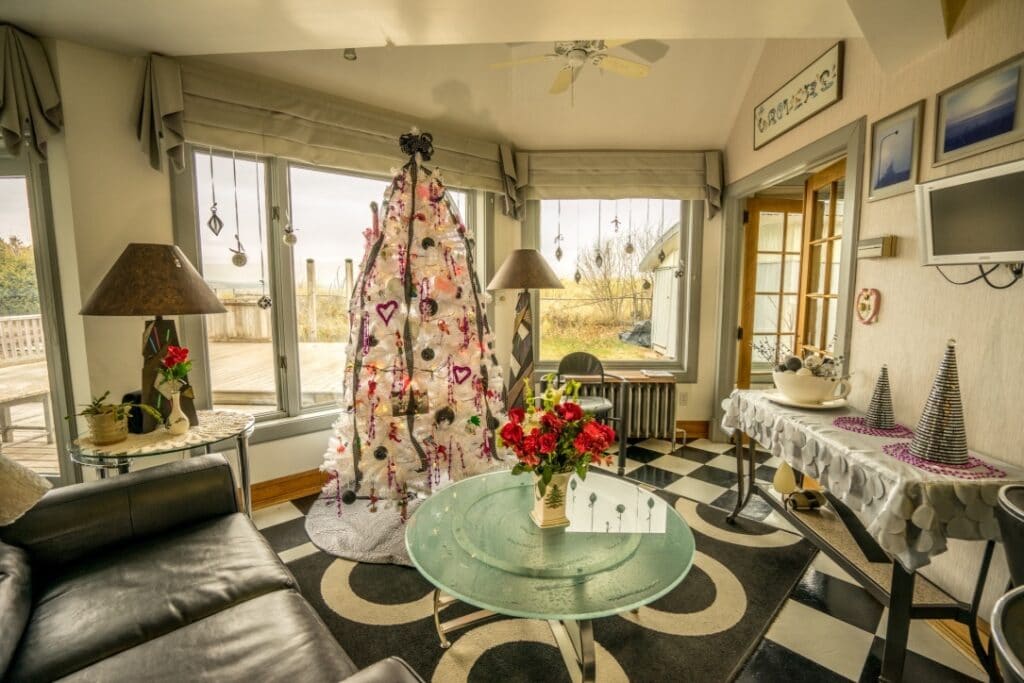 Holiday Cheer at Our Duluth Bed and Breakfast
We love to break out the holiday cheer at our Duluth Bed and Breakfast. You'll find festive trees with all of the trimmings, vibrant Poinsettias, wreaths, and seasonal recipes. When the snow first falls along the shores of Lake Superior, it's quite a sight, the whole world becomes blanketed in white, and the view is magical from our Duluth Bed and Breakfast.
Winter is a great time to join us for breakfast! We love to cook using seasonal ingredients, and you'll see some holiday favorites from baked goods and recipes with festive flavors. There are always hot beverages available so that you can enjoy your coffee, hot tea, or cocoa at your leisure. All guest rooms have a gas or electric fireplace, ideal for the evenings spent in the privacy of your room.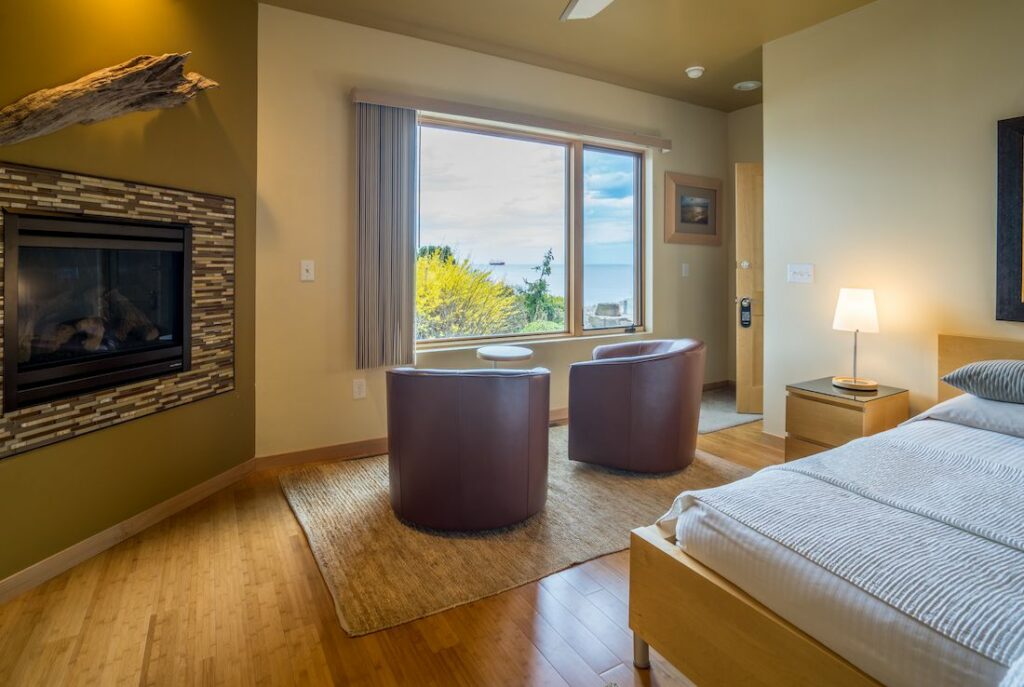 Comfortable Wintertime Lodging at our Duluth B&B
Upon check-in, you'll see that here at the Solglimt Lakeshore Bed and Breakfast, we enjoy the finer things in life. From a lovely glass of wine while gazing at the lake, collecting and chatting about art, and exploring the exciting culinary scene of our area. If that sounds like you, then you're going to love it here.
We can't wait to host you at our Duluth Bed and Breakfast! Start planning for your next winter vacation and book your stay today.