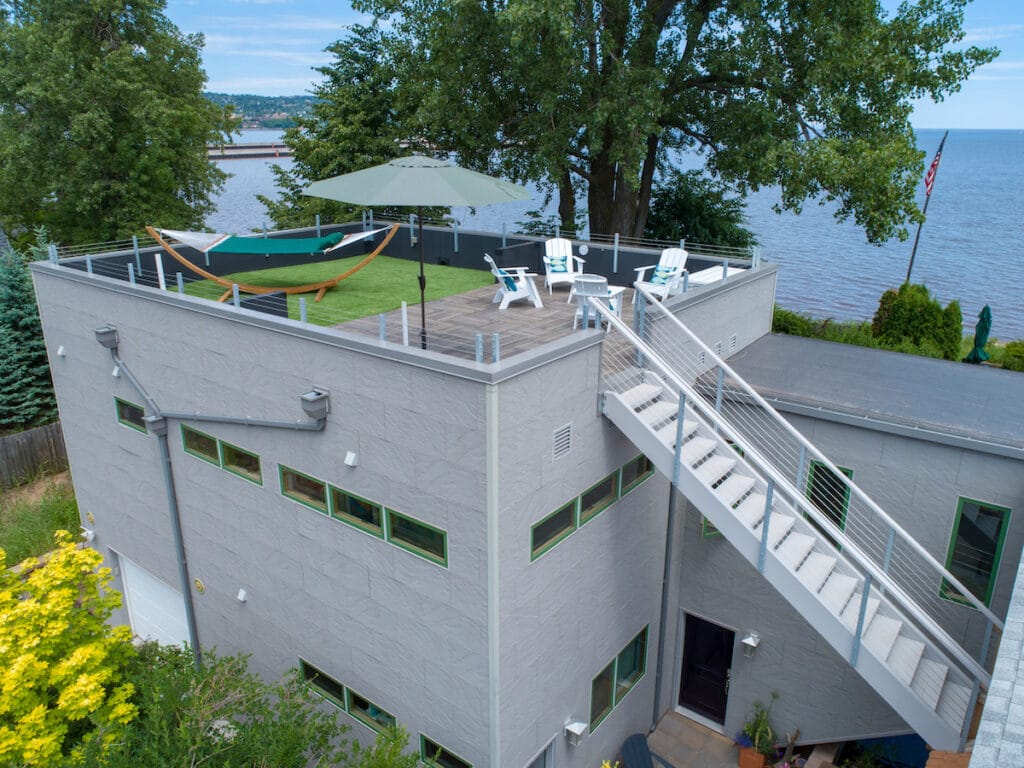 The new year is a perfect time to start planning your next vacation, and thankfully, the Solglimt Lakeshore Bed and Breakfast is one of the best places to stay in Duluth MN! Join us in the beauty of the Zenith City, overlooking the majestic Lake Superior and nestled in the wilderness of Minnesota. Whether you're looking for a quick weekend getaway to reset or a long leisurely trip to fully unwind, our Duluth Bed and Breakfast is the ideal destination.
Our guests always tell us what a unique experience they have at our comfortable Inn. We're one of the best places to stay in Duluth MN, for a memorable stay—where accommodations become a part of your experience, not just a cookie-cutter hotel room where you keep your luggage. At our Duluth Bed and Breakfast, you'll be warmly welcomed and feel right at home—especially with a delightful breakfast each morning and personalized recommendations from our knowledgable Innkeepers.
We can't wait for you to join us at one of the best places to stay in Duluth MN. Head on over to our availability calendar and book your next stay today!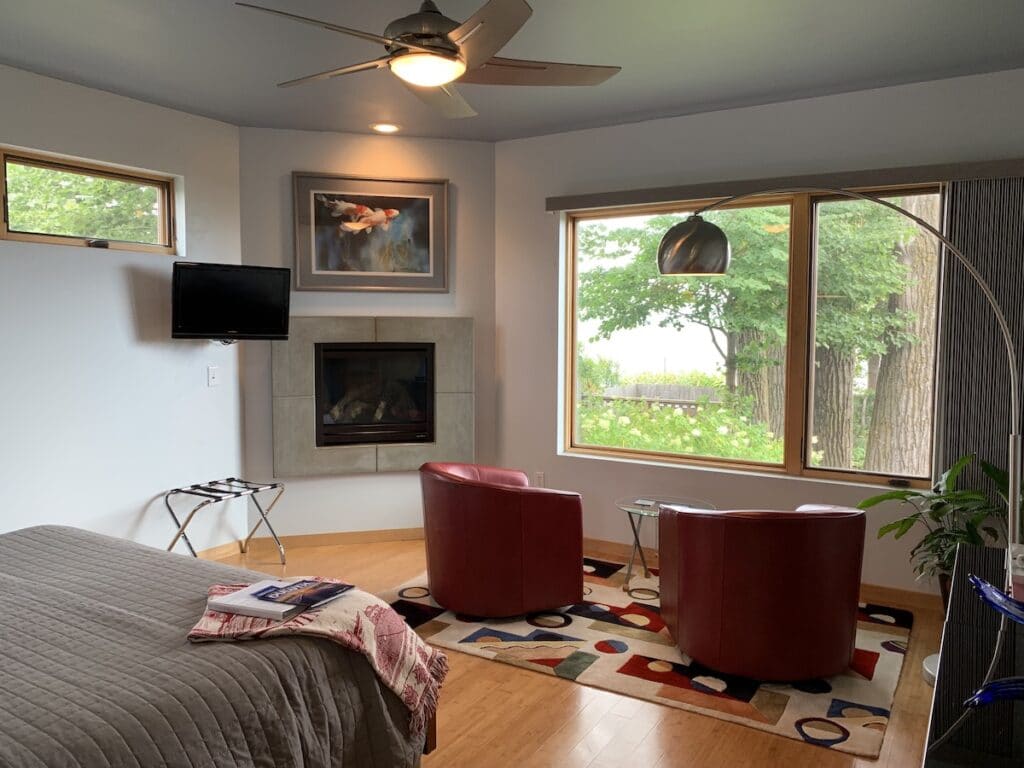 One of the Most Romantic Places to Stay in Duluth MN
More often than not, our guests check in to our Duluth Bed and Breakfast with the hope of romance on the horizon. And they're in luck, as our space is ideal for special retreats for two. Our five private guest rooms offer the perfect reprieve from the hectic activities of everyday life. Each suite is packed with classic comfort amenities, cozy seating nooks with fireplaces, and have beautiful views of the lake and St. Louis Bay or our award-winning garden grounds.
All the rooms also have a bright and welcoming en suite bathroom. Some offer a Thermomasseur tub with air jets for soothing hydro-massage or an oversized walk-in shower. After a relaxing soak or steamy shower with Aveda shampoos, soaps, bath salts, and lotions, slip into one of our fluffy robes. We pride ourselves on our meticulous housekeeping and attention to detail, which is particularly important in every corner of our guest rooms.
Each morning you'll be treated to a lovely three-course breakfast in our socially distanced dining area or out in the backyard when weather permits. This is not only a fantastic time to fuel up for your day ahead exploring Duluth, but also for lively conversations with other guests. We've witnessed many a friendship formed over morning coffee! Our tried and true recipes are prepared with local and organic ingredients, and everything we do is designed to make your mouth water.  
Our guests often remind us that our B&B is one of the best places to stay in Duluth MN for the whole package: comfortable guest rooms, stunning views, gourmet meals, and 5-star hospitality.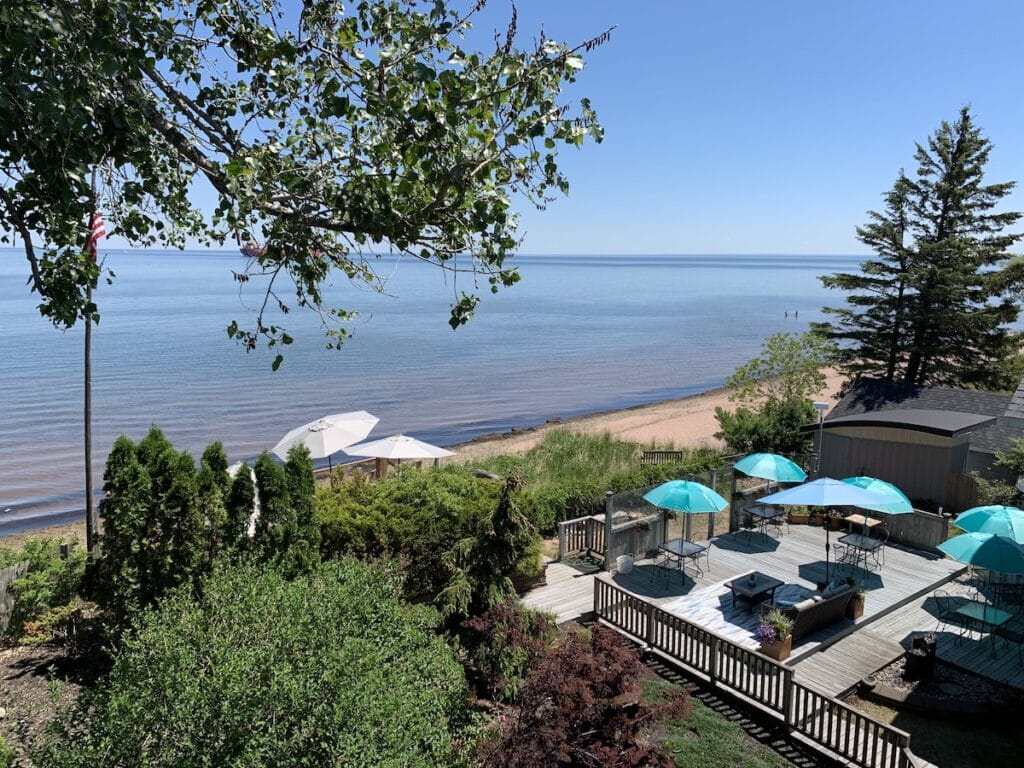 Stunning Lake Views at our Duluth Bed and Breakfast
Our location in Canal Park on the edge of Lake Superior is by far one of the main reasons why we're one of the best places to stay in Duluth MN. As a guest, you'll have direct access to the sandy shores for long walks along the beach or find a great spot by the water to watch the ships come in and out of the harbor.
Just a few minutes over the Aerial Lift Bridge, you'll find the cities best restaurants and breweries, shopping, and attractions. In Duluth, we love spending time outdoors, and there are more than 80 city parks for hiking, picnicking and soaking up the sunshine. For those who enjoy historical museums, the Glensheen Mansion is a must-visit with guided tours of the stately home from the early 1900s. There are so many amazing things to do in Duluth! For more in-depth info, please read here on our blog!
As one of the best places to stay in Duluth MN, we're constantly ranked as the #1 Bed and Breakfast in our city on TripAdvisor, and we intend to keep it that way—one amazing vacation (with wonderful guests) at a time. Start planning your next getaway and book today!