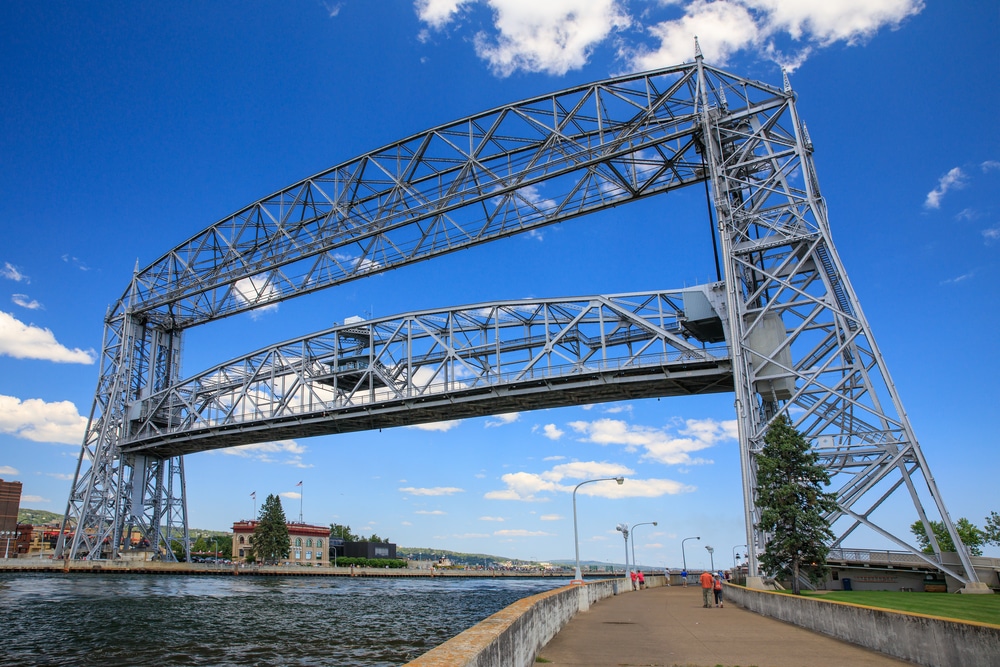 The Aerial Lift Bridge in Duluth is one of the top reasons people from all over come to this Minnesota city all throughout the year. It stands as an iconic symbol of the history and industry of this town still today. Its location in Canal Park makes it a popular destination that can't be missed on a trip here. Our location in close proximity to the Aerial Lift Bridge makes us the best lodging that you'll find in Duluth. When making plans to visit Duluth and the Aerial Lift Bridge our inn should be at the top of your list.
Let our Minnesota bed and breakfast be your perfect getaway to Duluth this Season! Set on the glittering shore of Lake Superior, our inn is the best place for rest and relaxation at its finest. You can unwind on one of the decks and watch as ships glide in and out of the harbor. We offer guests our 120 feet of unspoiled sandy beach to enjoy. Explore our award-winning gardens where you can find tranquility.
At Solglimt Bed and Breakfast, your comfort is our priority. You deserve to indulge yourself in the luxuries of our lakeshore inn. If you want the best Duluth getaway to escape to this season, book your stay with us today!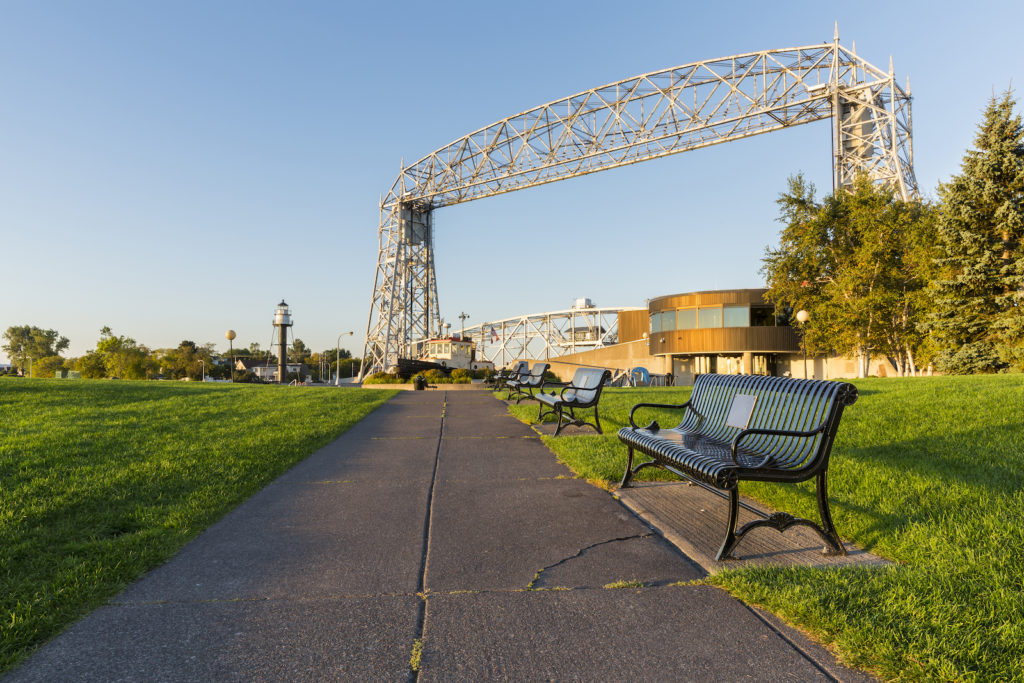 Visit Duluth's Aerial Lift Bridge
After deciding to stay at our incredible lodging in Duluth, you can plan your trip to come out and see the engineering marvel of the Aerial Lift Bridge.  This distinctive structure is a centerpiece of experiencing this Minnesota town. The steel and cable structure was completed in 1905 and it is one of the oldest landmarks in the city, listed on the National Register of Historic Places.  There are many reasons to come check out this impressive landmark, but here are our 3 favorite reasons to visit Duluth's Aerial Lift Bridge near our lodging!
At the Aerial Lift Bridge, you can witness 1,000-foot ships arrive and depart in the deep canal during shipping season. Cement and iron ore ships come through the massive bridge and it is a sight to see! You can walk directly to the bridge from our Duluth bed and breakfast to see up close what these impressive ships look like passing beneath the bridge or you may choose to stay at our Minnesota inn and watch from the comfort of one of our decks as you relax and soak up the sun away from the crowds.
From our accommodations, you have incredible access to this special, iconic, and one of the most uncommon structures in the world. Only two vertical-lift bridges like this have been built and the Aerial Lift Bridge is one of them. It is significant as a rare type of engineering and is just steps from our door!
A walk across the Aerial Lift Bridge is an experience like no other! The views of the canal and surrounding area are spectacular and not many people take the opportunity to do this. If you walk across the bridge you'll find yourself in Canal Park which is close to great restaurants and shopping. Grab some food and bring it back to our lodging for a picnic on our beach.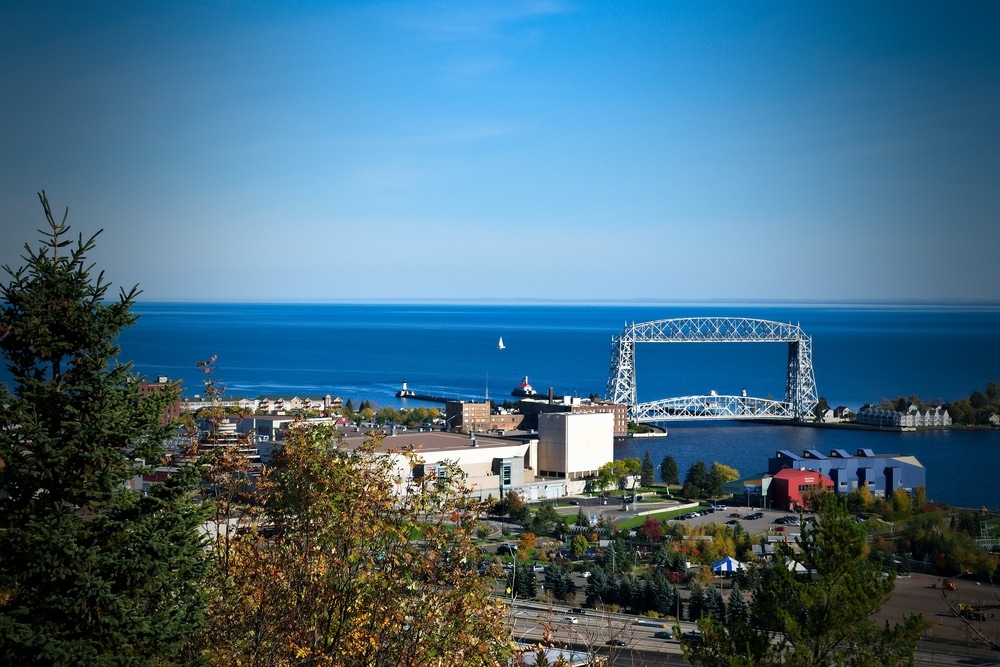 The Best Lodging Near the Aerial Lift Bridge
Come on out to the sparkling and healing waters of Lake Superior this season! Our lakeshore inn is the best luxury accommodations near the Aerial Lift Bridge, being within walking distance to this truly distinctive structure that people from all over come out to see. You can head out for a day of exploration of the bridge and beyond and have the option to return to your bed and breakfast at any point during the day for a break from the sightseeing.
In your eclectic, elegant, and casual guest room you will feel as if this is your home away from home with all the comforts you need for an ideal lakeshore vacation. Rooms are all uniquely set up and decorated with amenities to enhance your special stay here. You may choose a room with a gas or electric fireplace, a sitting nook, or you might want accommodations with views of the canal, the city, and a great view of sunrise and sunset. You can choose the room that will best suit your needs for the best vacation.
Our Aerial Bridge Suite offers one of the best views of Duluth Canal and the longships arriving and departing. Our rooftop deck overlooks the beautiful Lake Superior and all the action that happens near the Aerial Lift Bridge. There is no better place to stay near this iconic symbol of Duluth. If you want the best vacation to pamper yourself and slow down in beautiful and peaceful surroundings, book your stay with us today!