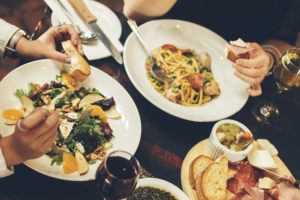 When visiting Duluth one works up an appetite and a thirst hiking the amazing trails, walking the beaches or exploring historic sites. The great restaurants in Duluth have you covered. Whether you're craving a juicy burger, handmade pasta or modern comfort food, you'll be satisfied. If drinks are in order, a better beer selection cannot be found anywhere else, as well as expertly crafted cocktails. Also find an atmosphere for any mood. Fun, energetic pubs invite conversation, intimate cafes set a romantic ambience and nothing can beat dining with beautiful Lake Superior views. Top off a wonderful evening out with more amazing lakeside views staying at the Solglimt Bed and Breakfast. Our guests enjoy elegant, comfortable rooms right at the water's edge. Savor your morning gourmet breakfast on our scenic deck or watch the sunset on our rooftop deck with panoramic views. Reserve your perfectly appointed guest suite for a wonderful fall getaway to Duluth.
10 Great Restaurants in Duluth
It's hard to limit the list to only 10 great restaurants. Duluth offers so many dining options, and each place has its own unique personality. There's certainly something for any palate or occasion.
Come visit Duluth during the beautiful autumn season and enjoy great restaurants on the shores of Lake Superior. Make the Solglimt Bed and Breakfast your tranquil getaway for a romantic fall vacation. Book your private suite with us today.