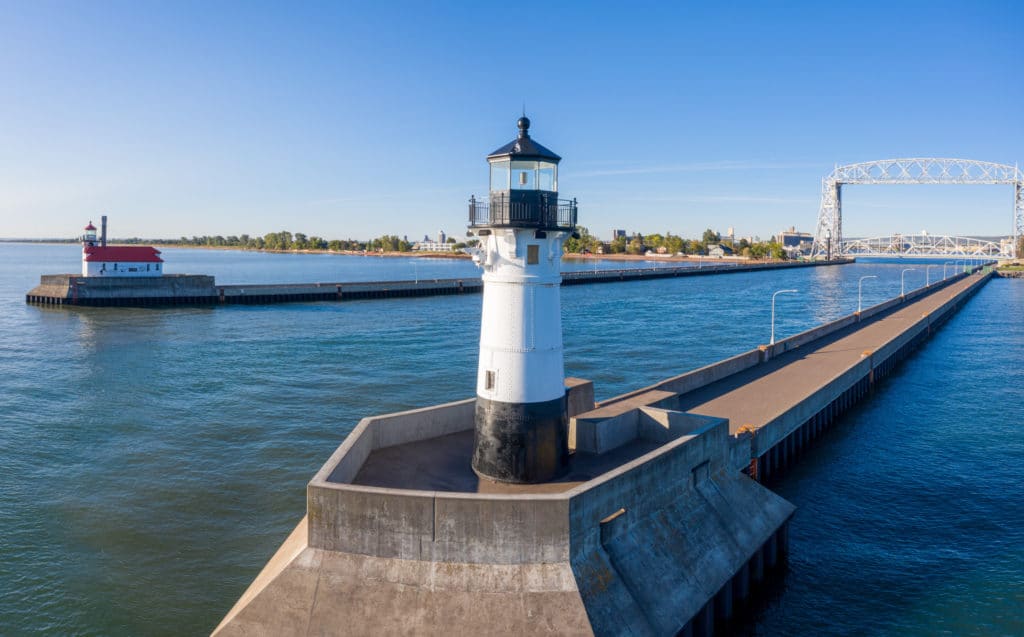 Duluth MN is the most beautiful city in the state and when you visit you'll see exactly why! This Minnesota town is set on the sparkling waters of Lake Superior with many lakefront parks and green space. There are 4 seasons here each with its own unique beauty. The panoramic views and scenery make this one a kind city worth checking out. Often referred to as the crown jewel of Minnesota's towns and cities, this getaway location is a great mix of the outdoors, shopping, great restaurants, and attractions.
Let our lakefront inn be your escape for a relaxing and fun-filled vacation in Duluth MN! With direct views of glittering Lake Superior from our many decks, you'll see cargo ships arriving and departing in the harbor. Unwind in your eclectic guest suites and relax in our gardens. You'll get fueled up for the days' adventures with a full gourmet breakfast. We are located near shopping, museums, recreational areas, attractions, and many restaurants in the area. Head out for the day knowing you are coming back to cozy, comfortable, and elegant accommodations.  This is the Minnesota getaway you have been needing! if you are looking g for a wonderful place to relax Duluth MN, book your stay at our Lakefront Bed and Breakfast today!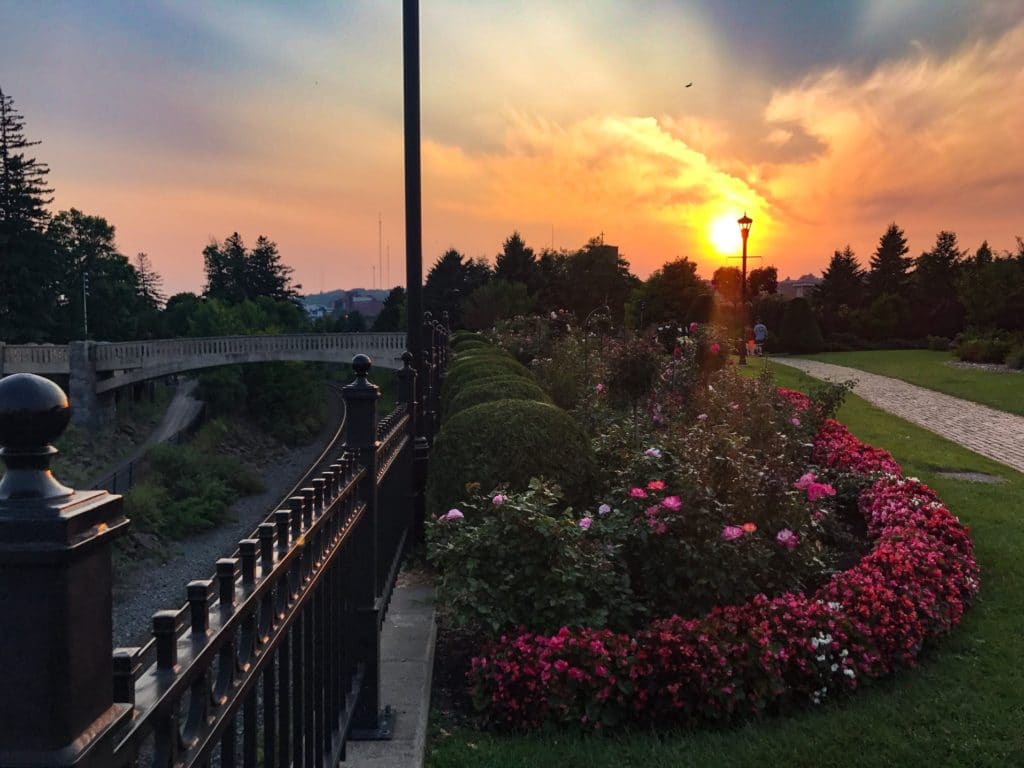 Duluth MN is The Most Beautiful City in The State
The location of Duluth MN plays a big part in why it is considered the most beautiful in the state. Situated on the shores of Lake Superior makes for miles of natural beauty. At this harborside locale, the water meets the sky as you look out over the serene lake. The unique skyline is an unforgettable sight as you'll see many structures that are not normally seen in the profile of a city. Public parks are green spaces that are sought after to hang out in and for some thinking and breathing space. Here are 3 incredible reasons why Duluth MN is the most beautiful city in the state.
There are 130 city parks in Duluth MN that range from recreational areas to urban gardens, to places where you can appreciate the gorgeous view of the lake. These parks add to the beauty by contributing some open space and green space to the landscape of the city.  The Lakewalk is a 7.3-mile pathway that traces the shoreline and encompasses many of the parks along the shore. The Rose Garden at Leif Erickson Park includes 3,000 gorgeous rose bushes to delight. The Waterfront Sculpture Walk adds an interesting outdoor gallery of international art to the downtown of Duluth MN.
The unexpected architectural wonders of this Minnesota town make Duluth MN one of the most beautiful in the state. Places like Glensheen Mansion harken back to another era in the city's history. There are many tours available at this 12-acre lakeside estate. The Aerial Lift Bridge is a sight to see and give the city's skyline a unique character. This landmark was put in around 1929 in order to let cargo ships pass through in and out of the Duluth Ship Canal. Split Rock Lighthouse is a dramatic sight of a lighthouse set on the rocky coast of Lake Superior. This stunning spot attracts photographers to capture the lighthouse in all kinds of weather conditions. You can take a self-guided historical walking tour of many of this city's impressive and beautiful homes and buildings that tell the story of the history of Duluth MN.
A major reason why Duluth MN is the most beautiful city in the state has to do with its location right on the shores of Lake Superior. There are many natural areas like forests and beaches to explore. Gooseberry Falls State Park features multiple waterfalls to view.  The beaches in and around Duluth MN range from sandy shorelines and dunes to rocky coasts where you can search for agates. Near Canal Park lies Park Point, home to the world's largest freshwater sand bar. Along the shores of Brighton Beach is a recreational destination where people go to soak in the scenery, enjoy a picnic, or search the rocky beach for treasure like agates.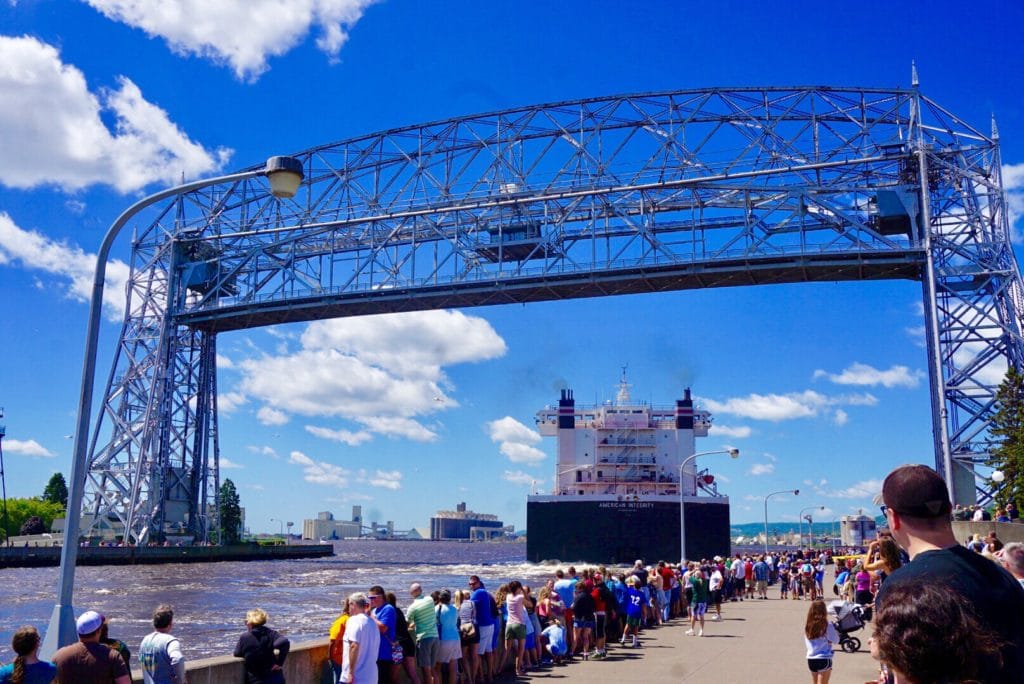 A Fantastic B&B On Lake Superior!
As you take in the beauty of this incredible city let our Minnesota inn be your ultimate getaway! Located on the waters of Lake Superior you'll feel a sense of calm here. In our serene setting, you can sit back on one of our decks to look out over the water as you watch ships arrive and depart in the harbor. Your unique guest suite is set up with your ultimate comfort in mind.
In this cozy and comfortable space, you can hang out after a day of exploration, rest, and rejuvenate. You'll get a great night's sleep on your bed fitted with fine linens then wake up refreshed and ready to enjoy our gourmet breakfast that will fuel you up for the day. If you are ready for the best Duluth MN escape this season, book your room today!