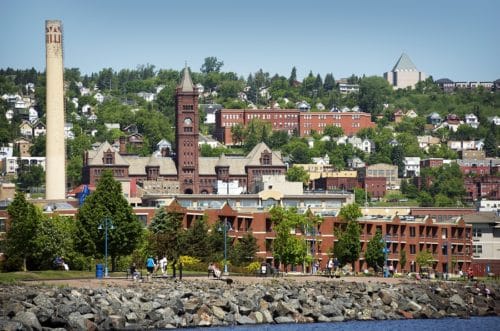 Spring has arrived and summer is just around the corner. It's time to think about warmer weather and summer vacations. Certainly, nothing cures the lingering winter blues like planning a summer getaway. The Solglimt Bed and Breakfast, located near Duluth's summer playground, Canal Park, boasts 120 feet of shimmering shoreline on Lake Superior. Your stay with us will be even more magical lounging on our new rooftop deck. Our beautiful Victorian seaside cottage has always taken advantage of the stunning views from our porches and decks. Now the new rooftop deck adds a breathtaking 360 degree view of Lake Superior and St. Louis Bay. Our reservation calendar is filling up quickly and those valuable summer weeks are limited. Book your vacation with us today and start dreaming of a sunny retreat with many great summer adventures.
Spend the Summer Outdoors in Duluth
Natural beauty surrounds Duluth. Here warm summer days are spent on beautiful Lake Superior and in the many city parks. Explore the wide variety of options for outdoor recreation:
Duluth Summer Events
Duluth knows how to celebrate during the warm summer days and nights. There seems to be an event for every interest, from beer to blues and arts to airplanes. Include an upcoming event when planning your visit:
After all these great summer activities and events you will need a place to relax and just enjoy the view. There's no place more serene than the Solglimt Bed and Breakfast. Our rooftop deck will become your new favorite place to sip a glass of wine and watch the sunset. Plan your summer escape with us today.