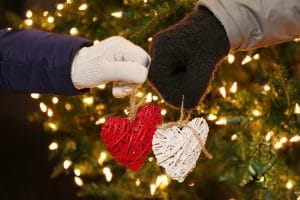 The Bentleyville Tour of Lights known as America's largest walk through light show, is a beloved tradition in Duluth. Thousands of locals and visitors stroll the amazing displays each year that include over 5 million sparkling lights. Held at the 20-acre Bayfront Festival Park along the shores of beautiful Lake Superior, it's a magical way to celebrate the holidays. Santa and Mrs. Claus parachute into the park on opening night, November 17th, and the season wraps up with a spectacular fireworks display on December 26th. This enchanting event is completely free and great for everyone. Nearby in Canal Park, find the tranquil Solglimt Bed and Breakfast. Our lovely lakefront location is just a short walk to the Bentleyville Tour of Lights and close to great restaurants along with the best shopping. Check the Bentleyville "Crowd-O-Meter" and plan your festive getaway at our charming Duluth inn during this joyful time.
The Amazing Bentleyville Experience
The Bentleyville Tour of Lights began in 2001 at a private home but grew quickly in popularity. Once the event became too large for a private property, it was moved to its current location the Bayfront Festival Park. At the park begin your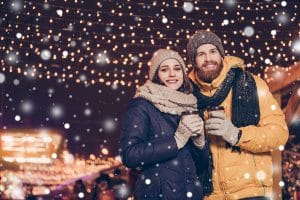 journey through the holiday wonderland by entering the "Bentleyville Castle," a glowing archway of lights. Other displays include a spectacular tunnel of lights, Dinosaur Land, Rudolph the Red-Nosed Reindeer, and the Island of Misfit Toys. Of course there will be photo opportunities with Santa, Mrs Claus and Rudolph. However this year the exciting addition is the new 128 foot tall tree with 150,000 LED lights. Atop this stunning creation shines the 8 foot tree topper ball.
The winter nights are beautiful along the lake, but they can also be very cold and windy. Be sure to dress for the weather and take breaks to enjoy the free treats provided. Stop by the Cookie House or Polar Popcorn House for some snacks. Or find one the many campfires to roast marshmallows and sip hot cocoa. While warming up by the fire see who's on the Naughty or Nice list. Updated every Friday, you can surprise a loved one by adding their name to the appropriate list.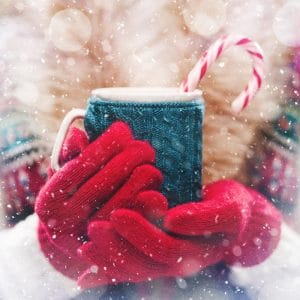 After enjoying the displays and the holiday cheer relish a great dinner in one of the wonderful restaurants that sponsored the event. Bellisio's, Famous Dave's, Grandma's Restaurant & Sports Garden, and Little Angie's are all on your way back to the Solglimt Bed and Breakfast. However, if you've had enough walking, catch the free "Jingle Bus". The "Red" bus transports visitors directly to Canal Park. Make the Bentleyville Tour of Lights a new tradition and reserve your room with us today for a fun holiday getaway.