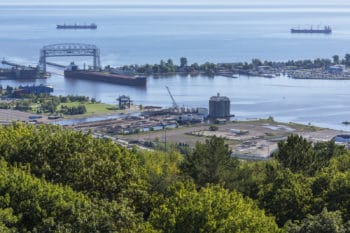 There are few places in Minnesota more exceptional than Duluth.  Duluth has a reputation for being a rugged and active city, perfect for the avid outdoor enthusiast.  It's a reputation that's well deserved.  Summer is a special time of year in Duluth; there's just something about this city that brings out your adventurous spirit.  Perhaps it's the wide open waters ready for exploration; or the hilly forests criss-crossed by trails; or the rugged outcroppings just begging to be climbed.  Whatever it is, now is a great time to wrap up your summer fun with a getaway to our beautiful Bed and Breakfast on Duluth's Park Point.   Book your room at the luxurious Solglimt Bed and Breakfast, and get ready for an unforgettable summer vacation in Duluth.
Park Point Summer Getaway
Our Bed and Breakfast is perfectly situated for a summer getaway to Duluth.  We're located on Minnesota Point, also known locally as Park Point.  It's a 7-mile long and narrow sand spit separating Lake Superior from Superior Bay.  From our Bed and Breakfast, you are minutes away from Park Point Recreation Area and the Minnesota Point Lighthouse in one direction, and in the other direction you'll find Duluth's popular Aerial Lift Bridge, Lakewalk, and the Canal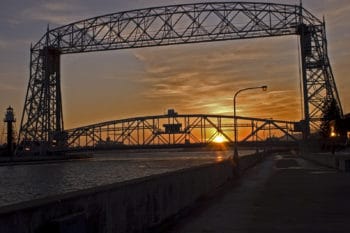 Park neighborhood.
The Park Point Recreation Area is just a few miles down the point, and is the perfect place to spend a summer day.  There is a public beach with concessions, picnic pavilions, playgrounds, recreational fields, and sand volleyball courts.  Lifeguards are on the beach during the summer months.  Hikers can also meander along the 4-mile Park Point Trail, which will take you to the historic Minnesota Point Lighthouse.  Along the way, you'll enjoy views of the harbor, remnants of old growth forest, and settler's cabins.  If you're looking to spend a quieter day in nature, Park Point also happens to be an excellent birding destination.  Thanks to the dense hardwood-pine forests, red and white pine forests, and sand dune beach, there are a variety of songbirds that frequent this area, along with common terns and the occasional peregrine falcon.
When you're looking for a place to spend your final days of summer, look no further than the Solglimt Bed and Breakfast on Duluth's popular Park Point.  We have 120 beautiful feet of beachfront property for you to enjoy, as you gaze out over the endless horizon of Lake Superior.  There isn't a lodging property like it in all of Duluth.  Book your getaway with us today.